Movies
Finding Vivian Maier
Amateur photographer Vivian Maier chronicled everyday life, but guarded her own identity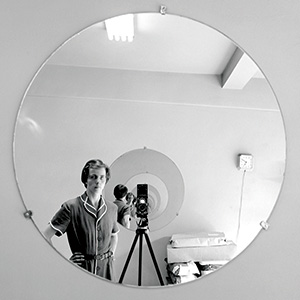 The aloof meets the Maloof in Finding Vivian Maier, John Maloof's account of the detective work he did to learn more about the woman whose photographs he discovered in a locker. Vivian Maier never exhibited her photos and home movies, shot from World War II to the 1970s. Some of the immense volume of work is harder-edged versions of the photojournalism that made Life magazine sometimes indelible, sometimes trite; other pieces are compassionate, invaluable images of people on the margins, taken by a brave photographer. Her best work is as good as the photography of Weegee or Gordon Parks. Maier was a mystery, and the mosaic-like fragments people remember make up this investigation.
Born in New York, Maier considered herself French. Her mother was from Alsace. She dressed functionally, mannishly. In the self portraits, the angles change; she's sometimes as horsey as Nancy "Miss Hathaway" Culp, and she's sometimes as handsome as actress Rachel Griffiths. Something memorable she said to an employer: "I'm sort of a spy." The spy's life is always tragic. During years of work as a domestic and a nanny, Maier hid behind identities. She changed her name and her range, from the Hamptons to Chicago. She even worked as Phil Donahue's servant, though the TV personality has little recollection of her. This detective story finds out as much as could be found out about an isolated, paranoid hoarder. Maier had a startlingly vicious streak that occasionally came out when dealing with the children in her care—and yet the home movies show great tenderness toward children at play.
With co-director Charlie Siskel (a collaborator with Michael Moore), Maloof conducts the investigation into this tormented woman, and I wished for some of the poetry cartoonist Chris Ware brings to the lives of similar solitary types. Ultimately, if Finding Vivian Maier is the work of a promoter, it's also the work of an ardent fan. Maloof is anxious to prove his hands are clean—his research demonstrates Maier did at one time want to promote some of her photographs, which clears him of implications of grave-robbing and privacy-disturbing. Rather than echoing accusations at the person who found, restored and brought forth Maier's haunting work, ask why, in our cultural integrity vacuum, the crowds are most fascinated by the story of a monk-like, suffering artist.
Finding Vivian Maier
Not rated; 83 min.