Movies
'Fox Studios Through 1935'
Stanford Theatre takes viewers way back with 'Fox Studios Through 1935'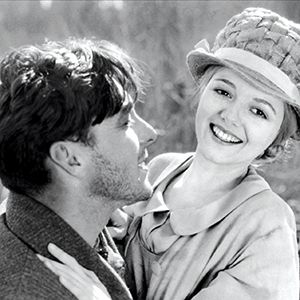 In the early days of movies, some pioneers made a lateral career move from garment work into cinema. It's as if the ribbons of celluloid were a peculiar form of yardage, to be measured and sold by the foot.Wilhelm Fuchs, later known as William Fox, was a Hungarian immigrant who worked as a liner of coats, before he invested in primitive movie theaters of the early 1900s. By the mid-1920s, Fox owned a movie studio as well as the world's largest movie theater, the Roxy, part of a chain that once included the Fox California in San Jose.
Fox's productions are being screened until late December at the Stanford Theatre in Palo Alto—a fest that charts the theater impresario's rise and fall. (In case you're wondering—yes, Fox's theater chain is linked to 20th Century Fox. The Hollywood studio took the name in a 1935 merger, long after its namesake had been kicked out.) Fox Studios was an early patron of sound film—the Fox Movietone sound system was developed with the expertise of Palo Alto-based engineer Roy de Forest. Movietone was a method of printing soundtracks on film—the method used, with some improvement, until the advent of digital cinema. The Stanford Theater hosts a demonstration of the Movietone system on Nov. 29, with the first movie made with a synchronized score, F. W. Murnau's Sunrise (1927).
Murnau is best known for Nosferatu. Sunrise has its own nocturnes, but this "story of everywhere and nowhere" is one of the most sublime love stories in the cinema. A farmer (the Ryan Gosling-ish George O'Brien) strays from his wife (Janet Gaynor); he's seduced into a plan to drown her by the city-bred lover (Margaret Livingston) he visits by night. Gaynor and O'Brien's romance is rekindled by a visit to a stylized city of huge public squares, Esperanto neon signs, and a fantastic amusement park. A masterpiece of German Expressionism even if it was made in America, it's loaded with humor; not every story this tragic has a close-up of a drunken piglet, or a moment of a barber pulling Bill Murray-worthy smirks as he shaves this yokel visiting the city.
A movie as innovative as Sunrise was probably doomed to fail at the box office, even though it starred Gaynor, one of Fox's most reliable draws. This festival has a number of Gaynor's movies, from the obscure to the better known. On Dec. 6, the theater will screen The Johnstown Flood, a little-seen 1915 silent film about the Pennsylvania disaster; it is billed with Gaynor's hit under director Frank Borzage, Seventh Heaven. There, the petite Gaynor plays a woman separated from her lover by the Great War.
If Gaynor played a good-hearted peasant wife with a Mennonite coiffure in Sunrise, she was also beloved as a hard-pressed girl of the city. Her film Street Angel (1925, Dec. 13) opens in Naples with the observation "Everywhere É in every town É in every street É we pass, unknowing, human souls made great by love and adversity." Such was Borzage's sensitivity to the underclass and the secret of his popularity as the Depression commenced.
"Fox Studios Through 1935" includes other fare besides romances: murder mysteries, drawing room comedies, Westerns and Americana. Will Rogers was the John Stewart of his day—a political commentator too liked by both sides to ever really get stuck in the partisan mire. Rogers stars in the original version of State Fair (1933). His role in John Ford's 1935 Steamboat Round the Bend (Nov. 13-14) is one of Rogers' best, and one of Ford's best. It's billed with Rogers as Mark Twain's time travelling hero, "The Boss," in Connecticut Yankee (1931).
Speaking of time travel, on Nov. 25 and 26, Just Imagine (1930) will take viewers to 1980—where futurians have their mates assigned to them by the government É and then it's off to Mars. And then to Hell. Dante's Inferno (1935) plays Nov 18 and 19, with unbelievable pre-Code recreations of Gustave Dore's illustrations.
Every Sunday brings silent films with performances by the legendary Dennis James on the Wurlitzer. Seeing these rarities with a live audience, for a fraction of what a first run movie costs, is an experience that's only going to become harder to find as the years go by.
Nov 11-Dec 20; $5-$7; Stanford Theatre, Palo Alto