Movies
Frankenweenie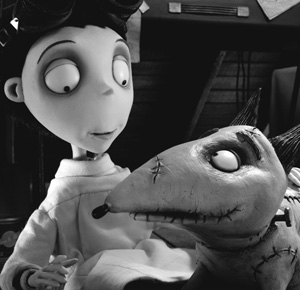 Tim Burton's first feature film, 1985's Pee-wee's Big Adventure, includes a chase scene with Godzilla and Santa in the same sleigh. It's a symbol of the convergence of everything that wasn't evident in the blander suburban reaches of Southern California: cartoons, horror movies, theatrical thespians, vernacular architecture. Only Burton would have thought to stage the climax of his 25-minute-long 1982 live-action short Frankenweenie in a miniature golf course.
As a true fan, I want Burton to bounce back from his most completely uninteresting film, Dark Shadows. The full-length and 3-D-animated Frankenweenie represents a small rebound, but it demonstrates the trouble of going home again.
In Burton on Burton, the director told interviewer Mark Salisbury that he felt that all he needed was a few more days shooting on his 1982 short to make it a full-length movie.
Is that judgment vindicated in this remake? What's added is mostly scriptwriter John August's well-taken if maybe obvious points about the fundamentalists' crusade against science. Otherwise, the story hasn't changed.
In the bland 1960s small town of New Holland, the precious pup Sparky is hit by a car and killed. Learning of galvanism, Sparky's master, young Victor Frankenstein (voiced by Charlie Tahan), decides to go through the door that man was not meant to enter.
Some passages really flow. Victor, suffering and numb after his dog's death, endures his day. The revived monster dog is cute, naturally, with a calico patch stitched into his back and a pair of bolts jutting above his collar. When he runs away, Sparky takes refuge in the pet cemetery whence he was disinterred, and turns around three times before settling under his tombstone.
Victor might have been more of a haunted child to begin with, but he's a normal stick who even plays a little baseball. The usually magnificent Martin Short and Catherine O'Hara voice the parents. Here is where you'd expect Burton to show some of the seasoning of the last 30 years, but instead we get more flatness. The mother is a '50s mom, idle and reading Harlequin novels. Later, the father sees his son in danger and shouts to his neighbors, "That's my son in there!"—and then does nothing to rescue him.
New Holland's weirdos are more interesting. In the original short, the science teacher was played by the great Paul "Mr. Italics" Bartel. This time, he's an elongated, waxed-mustached Vincent Price/Ian McKellen surrogate voiced by Martin Landau. Mr. Rzykruski garners the film's biggest laugh: a lecture on the majesty of lightning and the implicit honor of being fried by it.
Despite the town's name, this may be the Great Lakes Slavic belt (in real life, there is a Holland, Michigan). There's something of the Midwest in the constant storms, the rusty streaks from the iron lettering on the public building and the shifty, not-from-around-here neighbors. They include a Karloff look-alike, a grinning Peter Lorre creep called Edgar E. Gore, a pneumatically obese kid so inflated that his eyes look ready to pop out like strained shirt buttons and a sullen-looking ringleader. Given the last's cold gaze, it's amusing he's not just a junior ghoul but also a fierce Little League pitcher.
Elsa, the girl next door, exists to be rescued. Voiced by Winona Ryder, Elsa doesn't have as much to do as the film's other girl, "The Weird Girl," a staring, straw-haired inbred who uses her cat's litter box as an oracle.
All this sounds witty, but Frankenweenie is not an extremely funny movie, and it's far too rough for young children. The mood is autumnal, looking backward. Danny Elfman's score echoes his Batman theme, and the film is done in black-and-white, smudgy like charcoal, instead of gleaming as in the old Universal monster movies.
In passing, one notes the local appearance of some of the films Burton is loving (maybe to death) at the Stanford Theater in Palo Alto. This weekend, billed with Edgar Ulmer's The Black Cat, is Karloff the Uncanny in The Mummy, which is referenced in Frankenweenie. Then, Oct. 10-11, the Stanford screens the rarely revived and seriously pre-Code 1932 Murders in the Rue Morgue and the similarly based-upon-a-Poe-title The Raven, with Karloff and Lugosi.
87 min.
PG