Movies
Gene Kelly Festival
The Stanford Theatre pays tribute to Hollywood's manliest musical man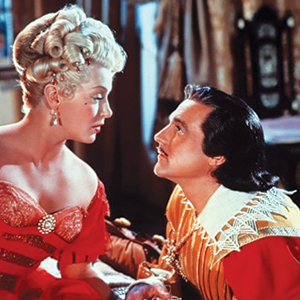 Before the second World War, Fred Astaire represented the ideal of class: solitary, wistful, tuxedoed and tailed. After WWII made everything tougher and more cynical, the Pittsburgh-born Gene Kelly countered what Astaire stood for. Kelly became to dance what Brando was to acting, bringing vigor, slyness and alley-cat virility to his art. He often played what they used to call a "heel"—out for himself and ready to drop a woman hard.
More than a dozen Kelly musicals, screening through mid-November at the Stanford Theatre, show this brash figure playing a spectrum of guys on the make—from sailor on leave to D'Artagnan riding into Paris bareback on a charger. His 1948 Three Musketeers (Oct. 31-Nov. 1) is an endearing Technicolor take on the Dumas tale, with Kelly showing a physicality unmatched by anyone but the man he was clearly emulating, silent star Douglas Fairbanks Jr. (The co-bill, 1948's The Pirate, has even more Fairbanks-isms.) The cast includes Frank "the Wizard of Oz" Morgan as the foolish King of France, Angela Lansbury as his succulent, faithless queen, and the ever Halloween-ready Vincent Price as "Prime Minister" (not Cardinal) Richelieu, looming marvelously over the camera.
Nov. 9-11 has Kelly in the rarely revived Les Girls (1957): Mitzi Gaynor and Kay Kendall are showgirls libeled by the memoir of a third member of their gang (Taina Elg); the only problem is that the gang can't synch up their memories, Rashomon-wise.
Nov. 14-15, catch 1955's It's Always Fair Weather, which has been called bitter. Tangy, rather, and funny as vintage Mad magazine. It's a revisit of Kelly's On the Town (Nov. 2-4) with three buddies meeting 10 years after the war and finding out that they don't have a damn thing to talk about. It contains maybe the single most hilarious moment in the history of the American musical—Dolores Gray's showstopper "Thanks A Lot, But No Thanks," in which she fends off a troop of gift-bearing chorus boys by increasingly violent means.
It all ends Nov. 18 with Jacques Demy's Young Girls of Rochefort, a French new wave reflection of 1950s MGM musical years, co-starring the sisters Catherine Deneuve and Francoise Dorleac. It's been revived frequently lately, probably because La La Land sourced it so hard. Also on the bill is the movie that inspired this French tribute, An American in Paris, with Kelly wrapping himself up in the panoply of post-impressionist painting and a handsome Gershwin score. Like the nation he represented, this performer smoothed off rough edges with a touch of ballet and imported swank.
Gene Kelly Festival
Thru Nov 18
Stanford Theatre, Palo Alto
stanfordtheatre.org