Movies
Review: 'Get Hard'
'Get Hard' pedals TV screen values, limpness all over the place.
Director Etan Cohen might as well be trying to herd cats.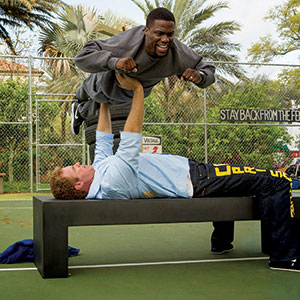 Diminutive comedian Kevin Hart has enough star power that he can play the Oracle Arena, but what he's got certainly isn't visible in Get Hard. It's like someone trying to retrieve the alleged magic of Stir Crazy with a smaller and more fearful Richard Pryor and a paler, moister version of Gene Wilder.
Obnoxious rich jerk James King (Will Ferrell) has it all: a mansion in Bel Air, a hot wife Alissa (Alison Brie) who runs around in thousand-dollar lingerie, and a squad of grossed-out Hispanic servants. Immediately comes a reversal of fortune and James is sentenced to ten years in prison for financial malfeasance. Now a pariah, he buddies up with Darnell (Hart) who supervises the garage team that washes his Audi. Terrified by fantasies of the prison rape he's sure he'll soon endure, King hires Darnell on the grounds that he's pretty much the first black man he's laid eyes on. King wants this quiet family man to give him lessons on how to survive in San Quentin.
It's clearly a treat for people who can't stop giggling at the thought of prison buggery.
Get Hard induces a case of claustrophobia when it gets stuck in King's mansion. Darnell and his associates make it over into a sort of elementary school version of a maximum security prison. There is wit in this movie, but it hides. An example: the gardener who wears a series of hand-me-down T-shirts left over from King's various social functions and celebrations ("Too Big To Fail Palooza" reads one). Cohen throws the bookworms in the audience a smidgen of bone when someone mistakes the name "Balzac" for "ballsack."
With its inexpensive, television-like visuals, Get Hard looks like it's been knocked around by a series of writers who didn't have much appetite for the story. The film's class-card playing, visible from the beginning in split-screen contrast between the idle wealthy and the simmering lower depths, quits when James proves street gangsters and Wall Street thugs have a lot in common--suddenly both sides are happy with one another. The movie tries to force a hug between fans of the damp Ferrell and Hart doing his motormouth bits, in one-man-show versions of Boys in the Hood and Oz played for King's benefit. This isn't the dawn of a deathless comedy team here—physically, they can barely meet each other's gazes. Repeatedly, Hart gets cleaned and jerked like a human barbell by Ferrell. Has any African American performer been picked up and held so much since Sammy Davis Jr?
R, 100 min.