Movies
'God Help the Girl'
Olly Alexander, Emily Browning, Hannah Murray star in a sort-of musical
loosely based on the founding of Glasgow band Belle and Sebastian.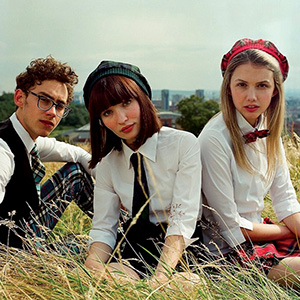 I must admit that Belle and Sebastian gave me a pleasurable if inch-deep depression—even the very title of their album Fold Your Hands, Child, You Walk Like a Peasant made me want to sit someplace shadowy and think about things. But the sort-of musical God Help The Girl, written and directed by Stuart "Sebastian" Murdoch evaporated before I could watch it all the way through.
Based (remotely) on how the Scots band formed, it's the anti-adventures of a quartet of idling young Glaswegians. There's the Australian immigrant, Eve (Emily Browning), with an anorexia problem that's kept her in and out of institutions. James (Olly Alexander) is an asthmatic lifeguard at a historic swimming pool; he plays a little guitar. The blonde and gorgeous Cassie (Hannah Murray) is a music student. For temptation's sake there is also a handsome Swiss rocker named Anton (Pierre Boulanger) who plays in a band called Wobbly Legged Rat. As I was saying about Calvary, any small country's cinema in 2014 is going to be at least partially travelogue—there seems to be a pressure to make these post-industrial spots look as glorious as possible. The solemnness of the battered red bricks and the gloom of the gloaming are sincere, but they can't counterpoint God Help the Girl's dedication to the wistful—not to say "the vapid." Has Glasgow has ever looked more like a tourist destination? James describes the city as "a Victorian theme park," but that's hardly going to discourage visitors. The movie takes us on hikes into the hills and then hangs on railings, admiring the view below. The film is punctuated by sylvan boating scenes out of Jacques Rivette.
Murdoch has seen a lot of French New Wave, not to mention that wave's most successful British devotee, Richard Lester. The wistful tune-lettes in this movie, in their sweet sorrow, and their dedication to fleeting feelings, seem almost impossible to stage as a musical. Murdoch goes cerebral instead of physical. The choreography is like the stiff anti-dancing that Godard featured in A Woman is A Woman. None of the characters are meant to be more than A, B, C, and D. Thinking over whether she wants to sleep a man, Eve says, "I was preparing to let myself." I failed to prepare myself to find out if it happened.
God Help the Girl
Not rated; 111 min