Movies
Gore Vidal
Gore Vidal: The United States of Amnesia remembers
the writer and intellectual's rare celebrity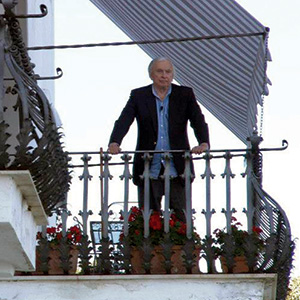 We saw Gore Vidal in many moods over the decades but never in "the Cedars-Sinai years"; here in Gore Vidal: The United States of Amnesia is the great man's last totter under the cypresses at his stunning villa on the Amalfi Coast.
The movie begins in the sublimely serious Rock Creek Cemetery in Washington D.C.; Vidal admires the marble-topped plot that he today occupies, side by side with his longtime companion Howard Austen. There are few more ennobling sights than a calmly foxholed atheist. In Nicholas Wrathall's fond documentary, the director has a subject who relished talking about himself. He also has access: interviewees include Vidal's half-sister Nina Straight and Vidal's literary executor Jay Parini. Vidal's nephew, the film director Burr Steers, is co-producer.
As we see from a newsreel clip, Vidal was on screen since age 10; his father was a government aeronautics expert (and a lover of Amelia Earhart, Vidal maintains). Vidal spent three years in World War II, stationed in the Aleutians—he got a novel out of that. He learned far more being the senatorial page for his blind grandfather, Albert Gore, one of the few Oklahoma senators to refuse financial emollients from the oil companies. Senator Gore, from whom Vidal took his first name, was an isolationist in 1914 and 1941 alike: "I will never rob your cradle to feed the dogs of war."
Vidal's America had an unparalleled terror of homosexuality; Vidal shrugged that panic off with startling ease. At 22 years of age, he was the author of an explicitly gay novel, The City and The Pillar, a bestseller blacklisted by the New York Times. Thus began a long and successful literary career. He made real money from the movies; Paul Newman and Joanne Woodward were great friends of his. He was credited on the script to Ben Hur: "They built everything as extravagantly as I required, including Charlton Heston." But he was a political celeb as well. He tells us he kept a picture of JFK on his wall, not as a keepsake of a friend he knew well enough, but as a visual warning never to get fooled again by great teeth and a strong handshake.
United States of Amnesia recalls Vidal's debates with National Review publisher William F. Buckley, Jr.; considered must-see TV in its day, they now seem more like a slow-speed Punch and Judy show. I can never remember who it was who called Talleyrand "a silk stocking full of merde," but the quote came to mind rewatching Buckley trying to win the day by telling Vidal, "Listen, you queerÉ ."
Vidal's later feud with Christopher Hitchens was more furious. Hitchens, interviewed toward the end of his own life, claimed he had paper to prove it was Vidal who endorsed him as a successor, "the dauphin"—the heir presumptive to Vidal's place as the monarch of American critics. Hitch thumped the tub for Operation Iraqi Freedom and denounced Vidal on the pages of Vanity Fair as a 9/11 truther: Vidal denies this on camera, but the two never spoke again.
It's inspiring to see Vidal's desk as it was, a toy American flag next to the most beautiful typewriter ever made, the Olivetti Lettera 22. But this is a partisan appreciation, a funeral oration delivered years late.
Vidal's willingness to be a celebrity made him accepted as a lovable curmudgeon even—as he complains here—when he was unable to use his name to get Congressman Conyers' investigation of 2004 voter caging reviewed in the New York Times or the Washington Post. Vidal's situation resembled Orwell's description of Dickens: a man beating an elephant with a cane, the animal experiencing it as a delightful tickling. He indulged in H. L. Mencken-type humor, lampooning the cracker accents, the dumbo theology, the rabble "responsive only to force majeure or money." Menckenism got less funny once we had the power to destroy the world over several thousand times. The movie saddens you with the physical decline and departure of a great wit. Ultimately it does prove that Vidal cared about one thing more than having an audience, and that was the fate of his Republic.
Gore Vidal: The United States of Amnesia
83 MIN.; NR