Movies
Review: 'Green Book'
Historical inaccuracies are obvious but forgiveable in segregation-era biopic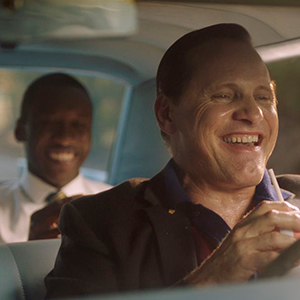 Viggo Mortensen is Tony "Lip" Vallelonga, a hustler of 1962 with the customary racist tendencies of an Italian neighborhood wiseguy. He (record needle-scratch) ends up as a driver, valet and personal assistant for a hoity-toity African American pianist, Don Shirley (Mahershala Ali) headed to tour the deep south. It's true, or truish; Shirley was a multi-talented artist, friends with Duke Ellington, a performer at the White House and the Boston Pops alike. Green Book is named after a periodical that used to let black travelers know where it was safe for them to eat and stay: a bit of history that deserves acknowledgement.
It's all affable enough in the road trip scenes, with some pepper added by Linda Cardellini as Tony's formidable yet pint-sized wife back home. The long gone areas of NYC are recreated admirably on a small budget by production designer Tim Galvin.
Ali is dignified in his spotless outfits, but he's a bit stiff. How could someone without a common touch have survived all of Shirley's adventures, from Haiti to the USSR? Mortensen, you don't quite buy, despite padded gut and the way he talks with his hands. (The real-life Vallelonga, co-credited on the script, was such an Italian archetype that he ended up in a dozen Little Italy set movies.)
A director less obvious than Peter Farrelly (of the Farrelly Brothers) would have helped this. Take the should-be-infamous product-placement scene where the finicky Shirley learns how to eat Colonel Sanders with his fingers. Even when this type of movie was current, 50 years ago when In the Heat of the Night came out, it would have been rich to watch a white guy teaching a black guy how to eat soul food. (If you have much of a memory of the integration movie era, you'll be surprised Tony doesn't call Don "A credit to your race… the human race!")
It's excerpt-ready for the Oscars, with the little blocks of conflict quickly precipitated and solved in a fast minute. The self-congratulation is thick, right up to the Christmas-movie finale. Then again, the holidays are what this movie is all about. That's when you cut sweet, syrupy and historically dubious movies some slack, and no one expects you to watch them without egg nog inside you. But the air of fraudulence builds up to the point where it's surprising it doesn't set off a monoxide detector.
Green Book
PG-13, 130 min.
Plays Valleywide