Movies
Review: 'The Hateful Eight'
Samuel L. Jackson and Kurt Russell face off in Quentin Tarantino's
latest treatise on senseless savagery.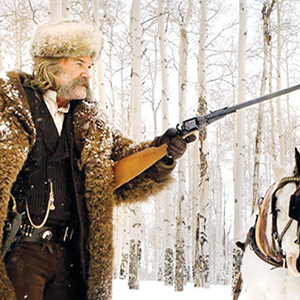 Quentin Tarantino's Inglourious Basterds was revenge against the Nazis, and his Django Unchained was revenge against the slavers. The Hateful Eight is his revenge against Western movies—a softer target. The snowscapes are mammoth, but not splendid enough to justify this specimen of grindhouse nihilism, blown up to roadshow size and in Ultra Panavision 70 photography.
Samuel L. Jackson and Kurt Russell are a cold-blooded pair of bounty hunters, blizzard-bound in Wyoming territory. They're stuck in a general store with the new sheriff of Red Rock (Walton Goggins), the cagey son of an infamous Southern bushwacker. Loitering there are suspicious figures: a Mexican steward (Demian Bichir), a silver-tongued hangman (Tim Roth) and a sulking Confederate general (Bruce Dern). One of the happiest moments in the film is Dern testily stabbing his own sleeve with his finger, to show a new arrival the stripes of rank that he wears.
Among these rough men is a woman sentenced to hang—the hellcat outlaw Daisy Domergue (Jennifer Jason Leigh)—a snotty, racist little psycho with a black eye and a cuddly-looking fur hat. She's the bullseye on QT's target, punched until her face is a mask of blood. Dialogue suggests that the true meaning of feminism is that women ought to get it as bad as the men, but Leigh's slightness leeches all the fun out that. Shouldn't QT have hired an actress with some meat on her bones? (Where is the Pam Grier of today?)
The moral, as much as there is one, is that the South and the North still have their differences, but honest examination of the same allows both sides to come together and engage in some violence against women. Blood and thunder directors like Sergio Leone and Samuel Fuller had some civilization imposed on them by producers or the Production Code. Going full barbarian, QT has made his nastiest, least appealing movie. The deathless Samuel L. Jackson—who deserves to play a larger-than-life hero, as when he goes hat-brim to hat-brim with an adversary on the big wide screen—but he turns out to be just one more talkative bastard.
The Hateful Eight
R; 168 Mins.
Valleywide