Movies
'Heart of a Dog'
In Laurie Anderson's new documentary, Heart of a Dog, Anderson
approaches the subject of grief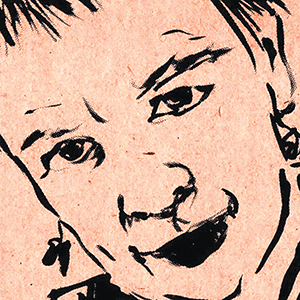 Laurie Anderson is a writer, filmmaker and musician. But above all, she is a performance artist. As such, in her new documentary, Heart of a Dog, Anderson approaches the subject of grief just as she approaches every subject she's ever tackled: by sidling up on what she has to say.
"I want to tell you a story about a story," she says, describing what a tale-teller leaves out—when codifying memory, when choosing a detail, or when leaving the most painful matters out, either by design or amnesia. Here, she narrates her nested stories through clouds of on-screen images. It's a blend of found footage, home movies slowed and manipulated, black-on-parchment animation, and images taken from a small camera mounted on the head of a dog.
She talks of the tension of reconciling Buddhist practice with her own letting go. Her late terrier Lolabelle was no ordinary dog. Anderson recalls going on a solo trip with her pooch to the Northern California coast, in an effort to expand the animal's reputed understanding of 500 words. The red-tailed hawks circling above, hunting, teach the territorial little animal that he has a new perimeter to observe. From here, Anderson broadens the scope of her narrative—reflecting on Sept. 11, a day when death came from the sky. The ashes of the Twin Towers blanketing New York City in white serve to remind Anderson of her mother, who died in snowy country.
The comforting, omniscient voice is more clipped now—more urgent. There's a shorter interval in the significant pause before she pronounces the last word in one of her koans. But faith makes a person counterintuitive sometimes: Anderson takes the counsel of a Buddhist adviser, instead of a veterinarian. The Buddhist advises her against putting her to sleep on the grounds that Lolabelle needed more time to process her impending death. This, to me, was idiotic. Is it not more likely that the question of death is above a dog's pay grade É and that this is what gives the dying of a pet its unique quality: they don't understand it, and we do?
Otherwise, Anderson builds her story like a good song—first gone dog, then gone mother, then gone city. The last voice we hear is that of Anderson's late husband, Lou Reed, crooning on the soundtrack. Heart of a Dog is like the Sufi proverb: "The roses are gone. What are we to do with the thorns?"
Heart of a Dog
NR; 75 Mins.
Camera 3, San Jose