Movies
'Ida'
A novice nun and her hard-drinking aunt take a fact-finding road-trip in Ida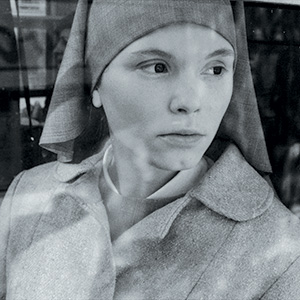 It was gratifying to see an SRO crowd at Cinequest for Ida, not only because we get so few Polish films around here, but also because it proves (third time's the trend) that, as in the Chilean Gloria, and the French On My Way, that if adventurous women of a certain age want to see themselves on screen, they're going to have to read subtitles to do it.
Poland in the early 1960s: we see the fine grain of fogged breath in the black-and-white mists as a young apprentice nun Anna (Agata Trzebuchowska) helps haul a painted statue of Jesus. She's ready to take her vows, immune to the grimness of the nunnery—at meal time, the silverware on the soup bowls clanks like ghost chains. The Mother Superior informs Anna that her only known relative has materialized. She is an aunt, Wanda (Agata Kulesza), a profane but handsome middle-aged lady. With grim amusement, Wanda decides to let Anna in on a family secret: Anna's birth name is Ida. And she was born Jewish in a land where anti-Semitism thrives.
The two women head out in a cranky East German-made Wartburg to go find the burial place of Roza, Anna/Ida's mother. Wanda's appetite for drink, cigs and sarcasm salts a film that takes place in Poland's answer to Bela Tarr-land, complete with cows, soggy roads and buildings crumbling from rising damp. Ida is a road trip, a tangy female-bonding picture. It's also a detective story—Wanda is a remorseless inquisitor, a former state prosecutor of capital treason cases, busted down to dealing with flower-bed vandalism cases. We can guess how she fell: she is a heavy vodka drinker, sharp-tongued, seething with emotional stress. Underneath, she has the traditional faith sustaining hard-drinking detectives: you can't find justice. But if you're diligent, you can find out what happened.
Anna is her pious assistant—with her headcloth and the dark eyes, she resembles the Girl With the Pearl Earring, only with a firm, dimpled chin. Her superficial meekness incites Wanda's teasing ("This Jesus of yours adored people like me.").
Ida is deceptively austere; in the second viewing, I was less struck by the thorough recreation of Commie squalor and more interested in the rapidity of director Pawel Pawlikowski's storytelling, and the well-designed placing of subtitles—he crowns his characters with negative space, and that's often where the spare, well-chosen words appear.
In this, one of the best performances of the year, Kulesha reminds you of a series of indomitable actresses from her indiscriminate love of music. The soundtrack is an eclectic DJ's dream, everything from classical to Polish cha-cha, to nightclub pop warbled by guest star Joanna Kulig, to Coltrane's after-hours classic "Naima."
If Hungary's Tarr is the master of Iron Curtain angst, this far more accessible film may lead people back to his massive work. Ida, of course, didn't come from nowhere. It's from a nation that endured division, occupation and poverty with a mixture of resistance and enlightened pessimism. One of Europe's most important film schools is in Lodz, which drew Lynch and Scorsese as visitors.
Scorsese is lending his imprint to a summer-long fest of some 12 Polish film classics, in connection with Amy Heller and Dennis Doros of Milestone Films. Unfortunately, the nearest stop for them is Berkeley's Pacific Film Archive. Be worth the trip to see the digitally restored Munchausian tales in 1965's Saragossa Manuscript (June 14, essential for new-minted Jodoworsky fans). Also: that masterpiece of bitter espionage Ashes and Diamonds (1958, June 15) directed by Andrzej Wajda, who, barring former Lodz student Roman Polanski, is Poland's best-known director. Wajda is also represented with Innocent Sorcerers (1960, June 27) 1975's The Promised Land (July 17) about the construction of the dark, satanic mills in Poland during the Industrial Revolution. And Wajda's Palme-d'Or-winning Man of Iron (1981, Aug 21) is in this retrospective. It's one of the few movies that can really be said to have helped topple a government.
Ida
R; 80 Min.