Movies
Inequality for All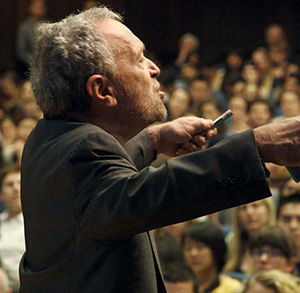 George Orwell's comment "to see what is in front of one's nose needs a constant struggle" might sum up the documentary Inequality for All. The effects of plummeting wages, and swelling perks for a tiny percentage of plutocrats, are well known, but there are professional deniers of the level of pain America finds itself in—and these think-tank hacks have less ground to stand on when Robert Reich is through with them.
Taking advantage of the movie law that symbol equals character, the indefatigable Robert Reich putters around the Bay Area in a Mini Cooper. It's as diminutive, nimble and peppy as its driver. When Reich stops the Reichmobile for a lecture tour, he pops the trunk and extracts a small wooden soapbox so he can reach the podium.
The former Secretary of Labor and current UC Berkeley professor was born with Fairbanks Syndrome, or MED. Given the five foot tall frame he got, Reich decided to make his rhetoric towering, instead. "Do I look like Big Government?" he asks a crowd.
Inequality for All provides Reich with his best soapbox yet. It cuts expertly from a composite of classes that he lectured, with animated graphs addressing everything from the shrinking middle class, to a flow chart of where the money paid for an iPhone goes. Reich visits victims of what he calls "The Great Regression." These are families squeezed by layoffs and flatlined wages, families (pardon me for doing the presidential speech thing) just like Ericka and Robert Vaclev, a former Circuit City manager married to a Costco cashier, trying to raise a family on a shrinking dollar.
Reich is a droll, skillful teacher. But Inequality for All doesn't address us as if we were a political rally. True, Reich faces the contradiction of anyone in the economics field who isn't Marxist, yet who confronts the problems that Karl Marx predicted. Reich's critique is populist not radical; he's trying to reach out beyond the labels of liberal and conservative, to address the weary and broke.
Inequality for All shares An Inconvenient Truth's lucidity, urgency and ultimate optimism. Director Jacob Kornbluth, Josh's brother and the director Haiku Tunnel, puts a crunchy Jordan Almond-colored shell on the sometimes bitter information here.
PG; 110 min.