Movies
Review: 'Jimmy's Hall'
An Irish community organizer clashes with the church in 'Jimmy's Hall.'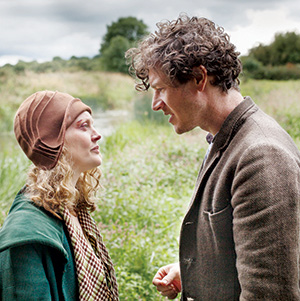 You won't be seeing Jimmy's Hall at your next Catholic Youth Organization meeting. Here Ken Loach celebrates a half-century of filmmaking with a compact political romance set in 1930s County Letrim, near the border that cleaves Ireland.
Returned from exile after the Civil War, James Grafton (the handsome Barry Ward) is given a little friendly pressure to reopen the small tin hall he once built, dedicated to Irish patriots, James Connolly and Patrick Pearce. It's a space for education, dancing and a spot of community activism. The locals flock, but the ultra-right-wing local priest, Father Sheridan, thunders against it. (That conservative divine is played by Jim Norton, the ornery bishop on TV's Father Ted.)  
There may be 50 shades of green in Ireland, but there are no shades of grey in Jimmy's Hall: the Communism is de-Stalinized, and everything in the hall is on the up and up. Until greedy landlords spur some community demonstrations, it's mostly ladies teaching Yeats, "The Gartan Lullaby" in Gaelic, and some jazz dancing. Loach is circumspect about the man/woman thing; I doubt there's a hamlet in Ireland that would object to the torrid dance between Jimmy and Oonagh (Simone Kirby), the lady he left behind. (His present to her from New York: the first non-tweed dress seen in the county.)
Loach's frequent collaborator, Paul Laverty, has to work the exposition hard, but the faces are refreshing. They include Aisling Franciosi, charming as a grinning, mischief-making colleen, and the non-pro actor, Aileen Henry, as Jimmy's mother—the mom is always a bit distracted, never directly addressing a crisis but always finding the right way out of it. Fr. Sheridan is opposed by a younger priest brandishing the example of the persecuted Christ: he's played by Andrew Scott—the splendid abrasive Moriarity on the BBC's Sherlock.
PG-13; 109 Mins.