Movies
Review: 'Juliet, Naked'
A generous and funny transatlantic romance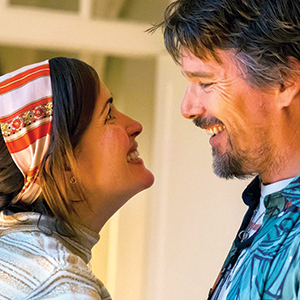 Rose Byrne proves that having a bit of a sad face really becomes a comedienne. In Juliet, Naked she seems like one of the best comic actresses around. The title makes this prime comedy sound more erotic than it is—even an underwear scene is staged in such a way that Byrne isn't exploited by the camera.
Knitting her eyebrows in exasperation, Byrne gives elements of ditziness, of slowness in reaction, that's a credit to one of the best funny women of her day, Diane Keaton. Byrne is very pretty indeed, but she also projects the right kind of ordinariness for a romantic comedy heroine; she is a figure for the women in the audience to project themself into.
Annie manages a municipal museum in a British seaside town called Sandcliff (actually Ramsgate). She's doing her father's job—the man "ran the local history museum until he couldn't remember his name." Annie is stuck in a dead-on-its feet relationship of 15 years, and even though she and her boyfriend Duncan (Chris O'Dowd) had decided not to have children, she's changing her mind.
While Duncan has a job pontificating about TV at the local university, his real vocation is running a website dedicated to '90s alterna-rocker Tucker Crowe (Ethan Hawke). He obsessively parses the lyrics and the life of this vanished recluse, whose album Juliet was once rated at No. 43 on one of Rolling Stone's wretched listicles.
It's when an unreleased demo titled "Juliet, Naked" arrives in the post that the conflict starts. As dull as the subject of Tucker Crowe was to Annie before, this selection of outtakes lessens her interest. It's such boring stuff that she trolls the comments on Duncan's website. That's when she receives a personal reply from Tucker himself, thanking her for disliking this bootleg as much as he did.
Hawke's at home in this role, comfy and slouching, and the matter of whether his music is good or not is immaterial—it's the emotions it rouses in his fans that matters. Tucker is the kind of aloha shirt-wearing bum Nick Nolte used to play, with a rasp in the voice, and a tire round his gut. He's a stay-at-home father who gets to live in his ex's garage somewhere in the American countryside. (Azhy Robertson is very charming as Jackson, the son Tucker is devoted to parenting.)
As Tucker and Annie become penpals, Duncan's tryst with fellow teacher Gina ends their stagnant relationship. But there are still obstacles—the problem of a transatlantic courtship between Tucker and Annie, and the genuine mess of Tucker's personal life. When Tucker ends up in the hospital, it's a variation of the Marx Brothers' "Stateroom" scene, with his various children from various women crowding out the flummoxed Annie.
The "to breed or not to breed, that is the question" matter can kill a romantic comedy fast, because the question always gets answered in the affirmative. But there's much more going on in Juliet, Naked than this. Subjects that would seem like rom-com contrivance in lesser movies are sturdy and thoughtful here. It's a well-filled romance, with elements of Tucker's own mortality, as well as the texture of the small seaside town where they do things like knit pink cozies for the knobs on the cast iron fences.
Seemingly incompatible people are matched: Annie and Duncan are both museum keepers, only his is a private basement collection stacked with bootleg tapes and posters of seemingly every Tucker Crowe show ever done. And the film has an air of nostalgia, looking back to British invasion music, with a fine cover of a 1960s classic by The Kinks performed by Tucker on a museum piece electric piano.
Juliet, Naked makes a tasty contrast between the romance and the absurdity of an official No. 1 fan. O'Dowd is hilarious in this pedantic role, as the kind of irritator that tells fellow Crowe-heads: "That is a really interesting theoryÉthat I've heard a thousand times before."
Duncan gets the movie's last words over the end titles, befitting source author Nick Hornsby's honoring of the cantankerous rock fan, as per his High Fidelity. Jesse Peretz, himself a noted rocker in his day, directs from a four-credited script that changes Hornsby's source novel in details but ends with genuine warmth and gentleness.
Juliet, Naked
R; 105 Min.
Valleywide