Movies
Review: 'Julieta'
Restraint, real-world emotion make for believable drama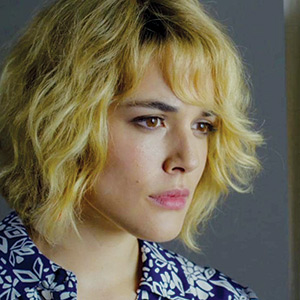 Living a long life means dwelling on a stage with numerous trapdoors. Players vanish or reappear, as part of some grand design that becomes all the more baffling as time passes.
Three stories by the Nobel laureate Alice Munro, from her 2004 collection Runaway, were the source for Pedro Almodóvar's latest film, the serious but never somber Julieta. Here the Spanish master presents a "tearless melodrama," in which a woman copes with the inexplicable vanishing of her daughter, Antía. Having no explanation for the rift, Julieta corrodes inside, living with the guilt of whatever it was that she did to cause her daughter to leave her.
The loss essentially changes her into two separate people. The "before" picture is Julieta as a perky, substitute classics teacher (Adriana Ugarte) with one of those dandelion-like haircuts that came around when punk rock went uptown. (The hairstyle helps, but we can also guess at the date. Julieta's students, reaching for someone to compare to the beauty of Ulysses' Calypso, pick Kim Basinger. One recalls the actress' turn as Vicki Vale in 1989's Batman: "Stop the press! Who's that?")
The older, solitary Julieta of today (played by Emma Suàrez) shows the cracks of age. Julieta is about to leave her home in Madrid, when she gets the news that an old friend has seen Antía with her three children of her own, somewhere on the shore of Italy's Lake Como. With grace and sureness, Almodóvar flashes back through Julieta's history, stopping long enough to show us the tryst she had with a stranger on a train—Antía's father. The stranger, Xoan (Daniel Grao), has a sad story; he's a fisherman whose wife is in a multi-year coma.
When Julieta learns she's pregnant with Antia, she tracks Xoan down. At his house, he deals with his rudely possessive housekeeper Marian, played by Almodóvar regular Rossy de Palma. De Palma, who has as arrogant a nose as an actress ever looked down, seems to be honoring the memory of mean Mrs. Danvers in Rebecca. Marian's lack of discretion, and her serious conservatism toward anyone who isn't Xoan, is key to how Julieta loses the man in her life, and her daughter as well.
Julieta's color is phenomenal. The richness of this film shows how superficial the saturated primary colors were in the neo-musical La La Land, as affectless as the plastic brightness of a children's book. Julieta's opening shot of deep crimson satin folds suggests perfect rose petals, or what people meant when they used to say "the cockles of the heart." The entire family of reds gleams, from wine, to magenta, to scarlets so rich they're almost black. Jean-Claude Larrieu's photography is hypnotic, even in ordinary transitional shots: a tiny red car gleaming like a gem in an aerial shot of mountain roads.
Instead of Munro's native Huron County, Ontario, Almodóvar shoots in coastal Galicia; Xoan's seaside house looks out at the Rio Ferrol Estuary, a landscape strongly resembling Point Reyes. It may be that Almodóvar had in mind a mainstream hit, the recreation of what the studios in California did so well 60 years ago. He was originally thinking of making this in English, in Vancouver with Meryl Streep. Canada is the place where melodrama went to retire, a home for the depraved expressionist melos of Guy Maddin and Atom Egoyan's superficially calm and emotionally devastating stories of sundered families.
It's hard to guess how this director's taste for dramatic flamboyance would have run up against Streep's precision. Over the course of a four decade career, Almodóvar gave us numerous screwball comedies as well as ridiculously good horror (The Skin I Live In). But the extremes in Julieta are well within the bounds of the elegant Hollywood melodrama, outside of that zone of breakdowns or tears—the best of these women's pictures had but one tear, usually. That restraint is what makes Julieta so well-turned, such a balance of smooth women and jagged feelings. That's what makes it so absorbing, with its imagery of ethereal lost love, in the jigsaw puzzle of a torn photograph, or soft red lips kissing a still tender, freshly tattooed heart on a man's shoulder.
Julieta
R; 99 Min.
Camera Cinemas.