Movies
Le Week-end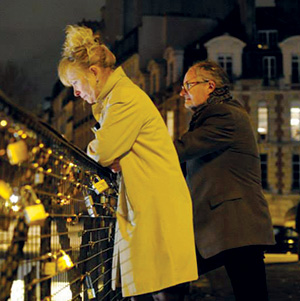 It seeks a more avant-garde crowd than the usual middle-aged angst movie; Le Week-end's references to the revolutionary Antonio Gramsci and the dance sequence in Godard's Bande Part flatter us, expecting we'll get it. The Parisian street locations, more high than low, set the right mood in what's an older person's version of work from the Richard Linklater/Julie Delpy axis.
Director Roger Michell (Notting Hill, Venus) follows Meg (Lindsay Duncan) and Nick (Jim Broadbent) taking the Chunnel to celebrate their wedding anniversary in Paris. Meg is a spiky, handsome lady with excellent French. She's the envy and despair of her husband, a philosophy professor facing ultimate futility at the end of his career. They're at the stage in the marriage where they're both best friends and nemeses. We get a suggestion of their power dynamic in one scene, where Nick begs for something he wants from her on all fours. (Perhaps they've been playing that bedroom game about Miss Cruella Meaney and her naughty doggie for decades.) The Scottish actress Duncan looks more like Joni Mitchell than Joni Mitchell does. Seasoned and glowing with an aura of severity, Duncan should be in line for any work Judi Dench isn't getting.
The question is whether sentiment will keep Meg attached to her flailing, needy husband. It gets worse when Nick's failure is contrasted with the mad success of his old school chum (Jeff Goldblum), a fountain of nigh-embarrassing American compliments, a wife half his age and a tremendous view of the Place de la Concorde from his window. It's a delight to have Goldblum back lately, but I waited for the payoff—a hint of the spite that comes from failure. The only time I saw scriptwriter Hanif Kureishi, back in the 1980s, he was denouncing a rival's writing: "heart on his sleeve—what a bloody mess." Reteaming with Michell, his collaborator on the TV version of The Buddha of Suburbia, Kureishi is approaching a similar blatantcy. What keeps us tolerant is a matter of opinion—it's either our affection for the actors, who are great, or the guilt that many a lumpy spouse feels about having a mate who outclasses them.
Le Week-end
R; 93 min.