Movies
'Life Itself'
'Life Itself' explores the many facets of Roger Ebert's life and career.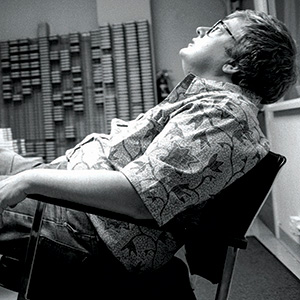 The touching and well-built Roger Ebert documentary Life Itself isn't as varnished as you might expect. Having very close access to Ebert, director Steve James caught sometimes brutal footage of a death from cancer. The steadfastness of Ebert's wife Chaz amazes. Everyone speaks of the courage of a dying patient, but Ebert's illness forces him to remain where he is. His mate stays by choice. That may be tougher.
In the late 1960s, Ebert was a young hire at the Chicago Sun-Times, then the Democrat, labor newspaper; he was an even younger winner of the Pulitzer Prize. On the side, he served as scriptwriter, cooking up the smarter alternative to Showgirls, Beyond the Valley of the Dolls. The Midwestern critic headed for national fame on the basis of Sneak Previews, a TV show that started lo-fi. He may have looked like a plucked owl in a plaid sweater-vest at first, but Ebert learned the science of looking televisionistic. He was yoked with the tougher, leaner Gene Siskel—a pal of Hugh Hefner's, it turns out. It became long-running and popular TV vaudeville, complete with circus pooch heralding the "dog of the week."
Life Itself demonstrates that Ebert managed to keep his independence somewhat, and as one fine Ebert/Siskel dustup suggests, that liking Benji the Hunted didn't prove he was wrong for disliking Full Metal Jacket. Despite how well he explained Robert Bresson for the beginner, I've got mixed feelings about the way Ebert simplified the complex. Ultimately, Sneak Previews narrowed the possibilities of film criticism. (How many times have I heard "You're a film critic? Like Fatty and Skinny on TV?") Life Itself shows the strain the pair operated under while doing the show. Interviewee Jonathan Rosenbaum, a critic of more depth and rigor than Ebert, suggests that Ebert was part of the entertainment business instead of separate from it. Ebert did try to sneak in more prestige films among the 'mersh. Sometimes a plodder, he was never a phony. Sad that Ebert's time as a blogger, at last free of editors and commercial constraints, coincided with the illness that disfigured him and rendered him speechless. The eminent critic Cyril Connolly wrote that the phrase "I read you but I don't agree with you" is a politer way of saying "I know you but I don't like you." It'd be hard not to like Ebert after seeing this.
R; 115 min.