Movies
Review: 'Live From New York'
'Live From New York' looks back at 40 years of 'SNL'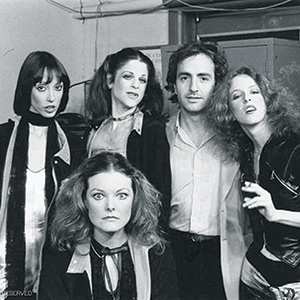 Just as the surreally SoCal characters do in the recurring sketch "The Californians," Saturday Night Live has done quite a bit of mirror-gazing in this, its 40th anniversary year. Still, Bao Nguyen's documentary Live From New York takes both a serious and well-researched angle on the show that changed so much.
From the veteran performers to the guy who writes the cue cards, Nguyen interviews them all. Lorne Michaels is terse. Paul Simon is worse: "New York has been an interesting place to make music for a long time," opines the singer-songwriter, going way out on a limb.
By reprising it, Nguyen correctly excerpts SNL's single worst moment: the first of several times Tim Kazurinsky stooged with a chimp in 1981. And here is one of the best: Oct. 3, 1992, when Sinead O'Connor—shaven-headed and alone on stage—tore up a photo of the Pope in front of a hot camera. There is nothing like the sound of an entire audience having a stroke at the same time. Chris Rock epitaphs it in voice over: "Cut to…[the future], she was right" O'Connor intuited the Catholic shame to come. She remembered the Magdalen Laundries.
The way SNL treated its non-white and female performers is a lesser scandal. Original SNL cast member Larraine Newman argues that getting on camera was all about merit, but the squandering of her fellow alumnus Garrett Morris is an original sin of the original show. Ngyuen offers good evidence of the sexism on SNL in the handling of the young Julia Louis-Dreyfus during her one season on the show. In a "GIrls of SNL" skit parodying Playboy, Dreyfuss was posed topless, covering her breasts with outsized lollipops, as the show's voiceover claims Dreyfus is "part woman, part child." From Andrew Dice Clay to Leslie Jones, Nguyen recalls the shows hot potatoes.
Live from New York bypasses the most electrifying musical moments on SNL—Bowie's performance of "The Man Who Sold the World" or Elvis Costello winning a 12-year suspension on SNL by playing "Radio Radio" in the very skyscraper RCA helped erect. Hear the management of SNL explaining themselves: to quote Elvis II, "they really think we're getting out of control."
Tape delay on the West Coast always robbed the show of a certain danger, even if it took its unready-for-prime-time risks with prohibited language—like when "Weekend Update" host Chevy Chase honored an imaginary sponsor: "Brought to you by Pussy Whip, the non-dairy dessert for cats."
Decades later, SNL is still known for elaborate and clever bathroom humor. Take "Dick in a Box," for example—Justin Timberlake and The Lonely Island's preposterously great gift idea. Below-the-belt humor even had its place when the SNL was coping with Sept. 11. Will Ferrell's squidgy butt in a star-spangled thong was a cheerier reply to Bin Laden's attack than the more serious response the show's directors engineered. We see that musical interlude, the first Saturday afterwards: Paul Simon depressing the crowd with his song "The Boxer" in front of a stage loaded with shell-shocked firemen, still covered in dust from Ground Zero.
Nguyen's documentary is most acute when analyzing the show's role as a kingmaker in presidential elections. "Political satire is harder than poetry," suggests former show host Ralph Nader. There were moments of maximum cruelty. A beefy John Goodman in drag as Monicagate squealer Linda Tripp is mean, but snitches get stitches. Scarier is the cast's ability to tie a joke around a president's neck, like a brick.
Al Franken, who used his career as an SNL entertainer to enter the Senate, broods over the fact that the election of 2000 was so close… and that SNL showing Al Gore maunder about the social security "lock box" didn't help the Democrats. (Interviewed here, Gore claims to have taken it in stride.) Farrell seems dazed at the thought that his humanization of W. might have swung the vote—"I hear I helped him get elected and re-elected." The politically unaffiliated kids out there love it when a presidential candidate shows he has a sense of humor by appearing on SNL. On the bright side, Tina Fey did more than anyone to expose the criminal vapidness of Sarah Palin.
Live from New York isn't a hilarious tour through SNL's archives. It's something maybe more valuable. It shows what the show was capable of doing as a sociopolitical entity. This is a lot better than asking an aged improv comedian how it felt to dress in a killer bee costume. I don't think anyone is laughing at the bees these days, anyway.
Live From New York
Unrated; 90 Min
Camera Cinemas