Movies
Review: 'Magnificent Seven'
If it ain't broke, don't try to fix it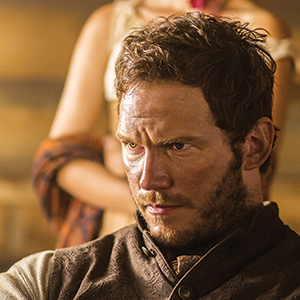 Oversized without being big-hearted, The Magnificent Seven has an acceptably interesting gun battle finale. But it removes the element of desperation from the story of the hired defenders of a small Western frontier town. In the latest iteration of this story, they're reduced to a band of fun-loving, wise-cracking mercenaries, just here to have a good time.
The hamlet of Rose Creek is ravaged by the Sacramento land baron Bogue (Peter Sarsgaard, thwarted, glum and just plain weird). Chisholm (Denzel Washington) a warrant officer—read: bounty hunter—is recruited by a frontier lady Emma (Haley Bennett) to round up a gang of gunmen.
The warriors include Byung-Hun Lee in the James Coburn part as a knife-man, and the First Nation actor Martin Sensmeier as a Comanche with the Dashiell Hammett name "Red Harvest." (A plus: either Sensmeier or his stunt double really knew how to ride a pony.) Stinking up the movie thoroughly is Chris Pratt as the Texas gunman Josh Faraday. Cut out Pratt's merry reactions to violence or put-downs, and the movie would have been half an hour long. Ethan Hawke is the dashing slicker "Goodnight Robicheaux" an ex-Civil War sharpshooter with bad nerves, but the standout is Vincent D'Onofrio, who looks like Orson Welles in Chimes at Midnight. He plays a mad mountain man with a cracked, whinnying voice. This burly madman makes insane biblical utterances—shooting people while chanting Psalm 23—and carries out feats of strength, such as tackling a horse, in the spirit of Mongo's famous horse-punch in Blazing Saddles.
This seems like a simple movie to make—create a thirst for justice and then slake it. But none of the villain Bogue's crimes against The Wild West are as severe as the photography. Color correction dyes the fields an irritating lime-green, or else a deep spurious gold around the sandstone promontories of Arizona. The talkative script keeps reiterating what we're seeing: "Dang it, I'm good!" Pratt says, feeling good about himself once again. "I sense we are bonding," we hear, as the seven men bond, masticating cheroots and cigars they don't seem to want to smoke.
Washington has a good hat and a better squint, but he's a bulletproof, dustproof Western hero at an age when he might want to start crumbling like Jimmy Stewart and Randolph Scott. Elmer Bernstein's inarguably magnificent theme song is insulted by the sloppy, weightless tone of this remake.
The Magnificent Seven
PG-13; 132 Mins.
Valleywide