Movies
Review: 'Manchester By The Sea'
Casey Affleck earns Oscar buzz in excellent drama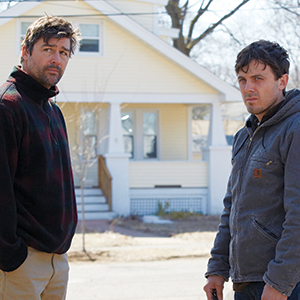 People are praising Casey Affleck's acting in Manchester By the Sea, and he'll probably get the Oscar for it—it's a solid, often surprising, sometimes monotonously drilling performance.
Affleck's usually cracked voice is sure and under control. He can be menacing and enigmatic at times, playing a character who has all but tattooed himself with the mark of Cain. The mild yet ominous stare gives way, when his character, Lee, drinks—devolving into a sucker punch at a local bar, or a fist through a pane of glass.
Affleck's Lee has sentenced himself to a cell-like basement apartment in Quincy, Massachusetts. He's the handyman at a homely complex of brick apartments. Even a menial job can be lightened by human contact, but Lee resists conversations. A cute tenant (Quincy Tyler Bernstine) confesses her crush on Lee to a friend on the phone, not realizing Lee is in earshot. He doesn't respond. Ultimately this handyman is forced by an unexpected death to return to the small coastal town that he left in disgrace years before. Due to a surprise in his brother's will, Lee has been saddled with the guardianship of the 16-year-old nephew Patrick (Lucas Hedges) whom Lee hasn't really seen in a decade or so.
Writer director Kenneth Lonergan has made masterpieces. I don't think Manchester By the Sea is one. Compared to the startling, against-the-grain view of a too-sure-of-herself adolescent in Margaret, or the shifts of moods and rays of hope in You Can Count On Me, this is a straightforward lament. It advertises its seriousness, with Handel sobbing on the soundtrack and the sad prettiness of its snowscapes and seascapes.
Sudden and inexplicable death unites his three directorial efforts, but if there's one thing that Lonergan does particularly well, it's watching adolescents...or the adults who haven't totally outgrown their adolescence, like Mark Ruffalo's character in You Can Count On Me. Patrick is such an acutely observed teen, with no special potential, and capable of minor trouble. He's a bruiser on the hockey rink, and he plays in a band. (Someone on his talent-free garage ensemble was sharp enough to crack a dictionary and select the name "Stentorian" for the group.) The contrast of his lightness to the somber Lee keeps winning the day. Patrick's sudden flashes of childish helplessness seem true.
Thanks to the clumsily integrated flashbacks, the night Lee had his heart burned out seems blatant, as rigged-up as an anecdote in a temperance melodrama. To its credit, Manchester by the Sea doesn't resolve this matter with slickness. The healing isn't instantaneous, the result of, let us say, the appealing kid or the entrance of a manic pixie dream girl. But Lonergan does ratify Lee's depressed funk and Catholic guilt, honoring its impenetrability. Nobody can really crack Lee's shell, even the ex-wife reaching out to him. She's played by Michelle Williams, with a monologue that looks like a highlight, mostly because of the tremendous speed with which she reaches its apex. It's turn-on-a-dime acting.
Other major female characters not up to Lee's solemness: Gretchen Mol as Patrick's mother, who was once a degenerate drunk and now is living the clean life, married to a steady Connecticut bore. He's played by Lonergan regular Matthew Broderick, the most Caucasian actor alive. Cut off from women he can trust—the young girls in his life are just for play—Patrick has a reason for bonding. The two men are happiest on the family fishing boat where they're really free.
In those boating scenes, it's easy to sink into movie pleasure and ignore the circumstances of their bonding. Rather than grounds for tragedy, it seems like the springboard of an old sitcom. In contrast with Lonergan's previous films, there's not so much counterpoint with the women's point of view. When you have a mostly male movie, the men are always going to be in the right somehow: their sullenness is honorable, not to be disturbed.
Manchester By the Sea
R; 137 Min.
Camera Cinemas, Cine-Arts, The Guild