Movies
Review: 'Meyerowitz Stories'
New Noah Baumbach film finds laughter amid tears, mirth in mayhem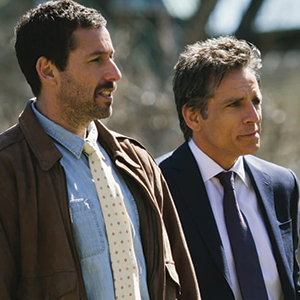 Witness the circumstances leading to a three-way public meltdown of the offspring of an elderly artist. The 80-ish artist couldn't make it because he's laid up in the hospital with a case of sepsis. The middle-age kids come to say a few words about the creation of a tabletop-size bronze, exhibited as part of a faculty retrospective at Bard College.
The piece represents a ball cracking in the jaws of a vice. Is it 1970s industrial minimalism, or an illustration of how the superbly exasperating artist, one Harold Meyerowitz, unmanned his male children?
Perhaps the latter, suggests The Meyerowitz Stories (New and Selected). In front of the crowd, Matthew Meyerowitz (Ben Stiller), suit-clad and bloody-nosed, tearfully recalls the awful childhood. Also upset are Matthew's half-brother, Danny (Adam Sandler), and sister, Jean (Elizabeth Marvel). All three have the same question: if Harold Meyerowitz was not a great artist, was he, then, just a prick?
As Harold, Dustin Hoffman is at his very best. This honors the work Hoffman did when he was young—the prickliness, the haranguing. The young Jewish prince has been promoted to Jewish emperor. He's still able to cow his "adult children." His psychiatrist lingo perfectly sums up these guilt-racked disappointers. Upon being reminded he was married four times, the old man corrects: "Three times—the first marriage was annulled." Wife No. 4 is his caretaker, Maureen (Emma Thompson), always on the wet side of tipsy and the cook of inedible family meals.
The merit of Meyerowitz's out-of-fashion artwork ought to be immaterial. It's all a matter of how at peace he is, and whether he can handle the success of old friends without coming unglued. He cannot. Not the serenity of old age for him, but deathless stubbornness; nose in the air, head cocked, compassion for anyone else long vanished.
As in Chekhov, there is the matter of the old man's estate: a New York apartment bought for $60 grand back in the day and now being sold for a huge profit. In the middle of negotiations, the old man collapses into an illness that his half-interested doctors say might be fatal. The Meyerowitz children are given pamphlets by the hospital, coaching them to say to Harold "I love you, I forgive you, forgive me, goodbye."
Writer and director Noah Baumbach (The Squid and the Whale) seems most on the side of the talented but unmotivated pianist son Danny. Danny is literally walking wounded, given that he's got a mysterious limp. Stiller, always the best at knotted-up nebbishes, excels as a wealth-handling L.A. lawyer, loathed a little by all for his financial success. Sister Jean is shy and gray as a sparrow, with her long hair curtaining her face. She's just as traumatized as her siblings, and she's ready to punch back if she gets a chance.
The funny thing is Danny's child Eliza (Grace Van Patten) is the lotus flower who grew up out of the Meyerowitz family swamp. As an incoming freshman at Bard, she's creating alarming short films about sexual identity. Yet there's no youthful resentment in her: hard to credit with this aggravated family. She gets on the piano bench with her father and duets on a song he wrote for her when she was 9—a tough task for an 18-year-old. One suspects she's here just to trick us into optimism with her youth, beauty and hope.
Such trickery aside, this is a spry, witty, comedy. Old Meyerowitz is such a familiar type in the worlds of art and academia that it's surprising how little he's depicted in American movies...outside of Woody Allen's more moralizing dramas. One admires that coolness and dryness with which Baumbach shows how a fractious childhood leads to middle-age panic, and how useless it is to try to think your way out of the craziness you were raised in.
The soundtrack is worthy, too: Randy Newman on solo piano. The closing credits roll over Newman's 1972 "Old Man"—a lot more bitter and comfort-free than Neil Young's take on the same subject that same year. It's happy news that Newman is composing for a film that has his own acerbic tendencies as a songwriter.
The Meyerowitz Stories (New and Selected)
UR, 110 Mins.
Netflix