Movies
Midnight's Children
Salman Rushdie's sprawling epic of India, Midnight's Children, sprawls like the Dickens on the big screen, too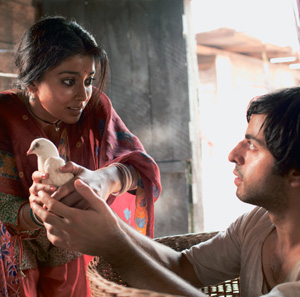 Deepa Mehta's diverting, noble attempt to wrangle Salman Rushdie's novel Midnight's Children to the screen (it played at Cinequest this year) is ultimately worth a look, thanks to the power of a book able to look after itself.
Rushdie did the script, and the results are what you would expect when a novelist adapts his own work: a preservation of narration above all. Rushdie keeps as many characters as he can, even if they could have been excised without affecting the trajectory of the story.
The unwitting hero, Saleem (Satya Bhabha), who undergoes everything from amnesia to police torture, is a descendant of India's mixed cultures. He's an inheritor to catastrophe and reversals of fortune; that also means he's the heir to the English picaresque novel, with its switched foundlings, reversals of fortune and sudden bursts of nigh-divine good luck.
The magical-realist premise isn't more boggling than that of The X-Men. After centuries of British domination, India became a free nation in August 1947. Rushdie has it that the many children born at the midnight hour when power was transferred were gifted with mystical traits.
Our protagonist's gift—seated in his prominent nose—is his ability to summon the sleeping spirits of all those who were born at that illustrious time. One of the unruly crowd—Mehta has trouble wrangling them, as if her film had been crashed by a rogue theatrical troupe—is Shiva, the boy who will become Saleem's nemesis.
Unbeknownst to Saleem, he and Shiva were switched at birth. The baby Shiva, born into an upper-class secular Muslim family, was put into the swaddling of a Hindu child whose mother had died in childbirth. Thus Shiva was raised as the spawn of a fawning, cuckolded street accordionist called "Wee Willie Winkie"—the Kipling reference in this tribute to India.
The Christian scripture "The last shall be first and the first shall be last" is essential to Midnight's Children: Shiva, destroyer by name and nature, finds a niche in the Indian Army and participates in the border wars and Indira Gandhi's 20-month-long clampdown. Saleem is raised in a mansion and then fobbed off as an unwanted child in the home of his Aunt Emerald in Karachi. There the boy witnesses the Pakistani military coup that tried to repurify "the land of the pure."
This saga of pride, prejudice and the folly of borders bears the imprint of Dickens and Fielding. Rushdie's script preserves his novel's scope, taking place over 30 years, if you don't count the previous 30 years in the film's opening half-hour, about the courtship of Saleem's granddad. More than 600 locations were used; at one point during its own history, the adaptation was planned as a miniseries, likely a better way to deal with such an epic.
Mehta, like Rushdie, has been seriously threatened for her art. And as the narrator tells us, the story is "not halal"—meaning this story wasn't drained of blood and mammalian juices. Indian cinema's preference for kiss-free romance isn't honored, although there is a spot of traditional Bollywood singing and dance—perhaps even more music could have linked up the far-flung cities and times.
Playing the passive Saleem, Bhabha has to helplessly carom from incident to incident. The force of this compelling history moves it forward when its protagonist won't. There isn't one performance you can hold onto for the entire movie—as in Dickens, the flamboyant incidental characters are more amusing than the hero who just wants to find solid ground.
The supporting cast includes the amusing coldness of Anita Majumdar as the hoity-toity Auntie Em(erald), Charles Dance as the treacherous specter of England and the avuncular Kulbhushan Kharbanda as Picture Singh, a street conjurer. ("A most charming person," he calls himself, indicating his basket of cobras.) The narrative is just as knotted and fanged as that load of serpents, but more here charms than dismays. The "odor of failure" that Saleem smells on his father is only occasionally noted during Midnight's Children.
146 MIN NR