Movies
Review: 'Miles Ahead'
Truth, Fiction Blend Harmoniously in this Don Cheadle-directed bio-fic-pic.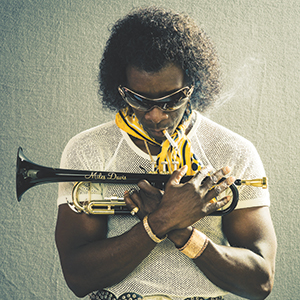 Unleashed from directors reigning them in, actors often go nuts when making their directorial debut. With Miles Ahead, Don Cheadle uses his first turn in the director's chair to craft an indie film full of whiplash flashbacks and playful, expressionistic storytelling.
Cheadle's approach might have been called Miles Davis, Private Eye. In the fictional storyline, Cheadle plays Davis playing the part of defective detective. On various powders and in various alleys, Davis seeks a stolen reel of tape containing his first recording in five years. The artist's quarry is a thuggish record exec named Harper Hamilton (Michael Stuhlbarg); accompanying Davis during this quest through the night is the scruffy, self-described Rolling Stone reporter Dave Brill (Ewan McGregor). Haunting Davis, much in the way Julie London's spirit stalked Tom Ewell in The Girl Can't Help It, is Davis' first wife Francis (Emayatzy Corinealdi). Francis is a dancer who gave up her career for Davis; it's a ripe showbiz movie part, and Corinealdi can't do much with it, despite a fine, slow gaze and muscles that would have pleased Praxiteles himself.
I enjoyed it. At the same time, I'd equally enjoy hearing some well-informed jazz fancier thundering against Miles Ahead as a typical Hollywood ripoff that framed Miles as the hero of a 48 Hours knockoff—complete with shootouts and car chases.
The movie wears its fictional side proudly. In one scene, Davis sports a hashtag on the back of his coat during a concert scene in a deliberate, Brechtian anachronism. And a framing device shows us that all this chasing and brawling is but Davis' fantasy during a thorny interview.
Over the years, Cheadle has demonstrated his range in a variety of films—from Hotel Rwanda to Ocean's Eleven. It's admirable that he used some of his Iron Man money to do something that should have been done decades ago. Even in this easy-to-digest form, it's still very low-budget, with many scenes set inside Davis' cave-sized New York loft.
It's worth the compromises to see Cheadle playing this titan of 'social music,' to witness the actor at his meanest and bleakest since he played the psycho Mouse in Devil In A Blue Dress, a picture he stole from its star, Denzel Washington. If the script of this crowd-pleasing movie is facile, Cheadle is uncompromising and forbidding, showing how Davis functioned with an iron mask of indifference that was bolted on him by white racism. He confronts outsiders with a dangerous whisper, and he's prone to flashbacks of mistreatment. This includes the story of how Davis was clobbered and booked by the racist NYPD for reckless eyeballing.
Part of this fast, thin movie is the idea that Davis has been artistically mute for five years. Yet everyone in New York knows Miles Davis—he stops traffic. A witty scene goes on at a dealer's room at the dorms at Columbia University. Trying to get a discount on a quarter ounce of cocaine, Dave reasons with the dealer that he owes Miles for all the times the dealer and his girlfriend made love to Miles's music. They ask the dealers' girlfriend, obviously unclad under the blankets on the dorm's bed. She nods. She doesn't know the title, but she sings a snippet of 'So What,' smiling.
That moment sticks out, because it sums up how the world of Davis' music was out of this world. The ordinary major motion picture biography would tell us how that song was written, or would try to define what the song had to say—thus endorsing Miles' noble refusal to get into a greatest-hits casket. One definition of Miles Davis is as an exasperated person, impatient with fools, who wanted to be left alone.
The movie may be nonsense, but there's nothing nonsensical about Cheadle's rendition of Davis: wearing sunglasses after dark, drawing quick and punching quicker. He's a loper, too, walking stiffly even before he is shot during an exchange of gunfire. What a world, eh? It turns out that one of the hippest men who ever lived was in dire need of a hip replacement.
Miles Ahead
R; 100 Min.
Camera 12, San Jose