Movies
Review: 'Mistress America'
Jokes don't quite jive in Noah Baumbach's 'Mistress America'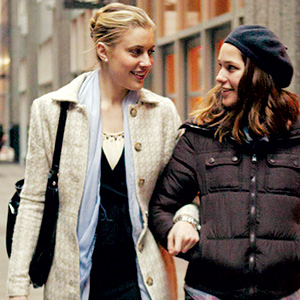 More haywire than fashionably brittle, Noah Baumbach's Mistress America is built on a Berlin Diaries/Breakfast at Tiffany's model. It's told in the second person: a poem to a breathlessly blithe young lady, Brooke (Baumbach's co-writer and live-in Greta Gerwig). She survives with little visible means of support and the help of an off-screen boyfriend called "Stavros," like evil Blofeld. She's idolized by the lady who will become her sister by marriage: a budding, alternately too-shrewd and too-sentimental college student, named Tracy (Lola Kirile).
Tracy is pretty—and she has a racy streak that comes out unexpectedly, as when she promises to give a guy she likes "a backrub he'll never forget." But she dresses in little-bird shades of brown and she wears an oversized beret that covers her head like a monk's hood. In this script, which is like a matrix of New Yorker cartoon captions, Barnard College is a bad joke. In a class about Renaissance lit, a fellow student just wants to talk about velvets and brocades.
Out of options one weekend, Tracy searches the cracked screen of her cell phone and decides to introduce herself to her new stepsister. Brooke lives in Times Square, she says—Hell's Kitchen is more like it. Baumbach tries to set up a visual explosion of bright lights after the wet autumn leaves and mean, droning classrooms of the beginning. In his restless montage, Brooke does it all. First, she's a spin-class instructor. Then she slaps on horn-rimmed glasses to become a tutor. And she's also a dancer/aide de camp to a rock band that (such is the editing) we don't see long enough to get an opinion about.
The two ladies have cross-purpose conversations—one dialogue starts out being about a dead mother but ends up being about frozen yogurt. Brooke talks so fast, she has cross-purpose conversations with herself. This can be funny, as when she defines the word autodidact as "that word I self-taught myself." On the advice of a psychic, Brooke leads an expedition to the mansion-land of Greenwich, Conn., to find financing for her new project. She goes to visit her wealthy former boyfriend (played with it's-great-to-be-the-king brio by Michael Chernus). Along with Brooke comes a car full of tag-alongs to witness this hustle—including Tracy, Tracy's crush Tony (Matthew Shear) and Tracy's crush's girlfriend, a death-before-divorce type played by Jasmine Cephas Jones.
The settings and screwballism of the second half give more air and space, and less monotonous focus on Gerwig. The cast gets along easily. Now accepting Tracy as a younger sister, Brooke calls her "squirt," as if she herself had suddenly become Tony Dow on Leave it to Beaver. Brooke's sales pitch describes a restaurant-cum-hair salon-cum-community center she intends to open, and the pitch sounds like the Williamsburg pledge of allegiance. In her view, the place must be simultaneously cutting edge and poignantly homely. And it shall be called "Mom's"—just like the restaurant described in novelist Nelson Algren's oft-quoted three rules of life: "Never play poker with a man named Doc, never eat at a restaurant called Mom's, and never sleep with someone whose problems are worse than your own."
That little monologue about Mom's—it should be performed in acting classes—is Baumbach at his best, as in Frances Ha and Squid and the Whale. But Mistress America doesn't mesh. It's as if Baumbach is trying to bind two disparate eras of his life—squid-like climbing writer on the way up, and sedate, whale-like indie movie success.
Gerwig has already played the collegiate (or in this case, post- and/or pre-collegiate) frauline in Frances Ha and Damsels in Distress—the part is starting to straightjacket her. Of course, this dizzy and dizzying pale blonde with the complicated mouth is a perfect figure to play women who don't know where they stand. Still, Tracy herself gets the last word, deciding that babbling Brooke is "a beacon of hope to lesser people." That drop of vinegar curdles this custard. Define, please, "lesser people."
R; 86 Mins.