Movies
Review: 'My Cousin Rachel'
Rachel Weisz stars in this eerie adaptation of the Daphne du Maurier novel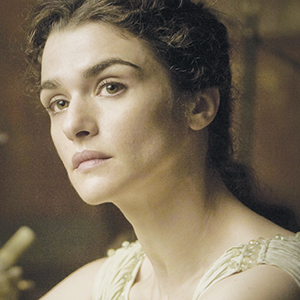 Made scaly by the filigree of the lace of her long black veil, Rachel Weisz stars in a role so right for her that it's seemingly named in her honor: the Daphne du Maurier adaptation, My Cousin Rachel. She's no letdown to the actresses who previously assayed the role, Olivia de Havilland (1952) and Geraldine Chaplin (1983). At 47, Weisz shows almost no discernable signs of aging, unless it's a subtle ripening into lushness. Her Rachel is a seductive older woman, who perhaps learned the old craft of poisoning from her time in Florence.
In the middle of the 19th century, handsome Philip (Sam Claflin, Finnick in the Hunger Games) was raised by his cousin Ambrose on their sheep ranch on the Cornish coast. Ambrose has poor health and takes his winters in Italy—there, he encounters another cousin, Rachel, raised in that land. Ambrose marries her, and shortly expires... but not before sending letters in splattered ink, as if Ralph Steadman lettered them. Ambrose claims he's been murdered by Rachel. When Philip goes to Italy to find out more about Ambrose's demise, he learns the supposed cause of death was a brain tumor.
Soon Rachel arrives in England to view her husband's land, though Ambrose never changed his will in her favor. At 25, Philip will own the manor, but he's taken by the comely widow, and charmed by her sophistication. If only she weren't so insistent on serving up peculiarly noxious herbal teas...
Avoiding Masterpiece Theatre syndrome, Roger Michell (Venus, Notting Hill) uses handheld camera and quick editing; he also makes the farm life notably coarse—on the gauche side of Thomas Hardy, with obscenities shouted, and close-ups of sawing into meat at the table (at Christmas, the farmhands tear the roast goose apart with their hands). After being taken for a roll in the bluebells by Philip, Rachel mops herself with a handkerchief.
It's an idea to take material this moonlit and foggy into the realm of the realistic. But Claflin, playing the most foolish property owner since King Lear, can't convince us of his blinding passion. My Cousin Rachel withholds an extremely important bit of information until the last minute. And the denouement isn't set up in a way that can be believed. It's rushed, it's abject.
My Cousin Rachel
R; 106 Mins.
Camera Cinemas