Movies
Review: 'Paris Can Wait'
If this Eleanor Coppola film is worth it, Diane Lane makes it so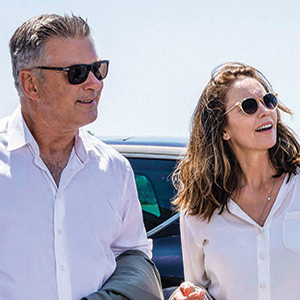 Last seen about to be burned alive by Lex Luthor in Batman vs. Superman, Diane Lane couldn't do much with the material except cry for help. A hard fate for one of the coolest actresses around, to be used for kindling. Long memoried fans could roster her parts, from one of cinema's great stripteases in The Big Town to the authentic feral kids she played in two S. E. Hinton adaptations. Lane's banner role is in the 2002 Adrian Lyne movie Unfaithful.
Cheating wives are a risky role to play here in the Land of the Faithful, because you can end up with both sexes hating you. Lane's clarity acquitted her—an audience will follow an actor who knows what they want.
If Eleanor Coppola's rambling road movie Paris Can Wait has any integrity, it's in Lane's lead character, Anne. For reasons of unpopped eardrums, she decides not to take a private plane from the Cannes film fest to Budapest with her overbooked husband Michael (Alec Baldwin), a film producer. Instead, she gets a ride with Michael's business associate Jacques (Arnaud Viard) from Cannes to Paris, in a Peugeot with a malfunctioning fan belt. (One thing that needs to be said for Paris Can Wait—the casting makes it easy to believe. Married to an Alec Baldwin character, almost anyone would consider pre-emptive adultery.) Once Michael is safely out of the picture, Jacques puts steady but genteel pressure on this married woman to come across.
If there's any place you'd want to see a movie set where nothing happens except people of a certain age making spaniel eyes at each other, it's France. It could be politely described as school of Claire Rohmer, but this is achieved at the balance of Lane looking very awfully coy about the seduction. This shy reticence isn't a service to Lane, nor is it a favor to make her listen intently to Jacques' sub-Rick Steves explanation of the Roman ruins and the sites along the way.
Some of the fish out of water incidents are believable (the French conversation here is hard to catch, even if you have a little ear for it). Some of it is surprising rookie traveler stuff. (S-snails? For dinner? Ulp!). Paris Can Wait is rarely far from exasperating; the quite ordinary-looking Viard doesn't have the spark to set this romance alight.
Paris Can Wait
PG, 92 Mins.
Camera Cinemas