Movies
Review: 'Pather Panchali'
Satyajit Ray's magnificent Apu Trilogy returns this weekend, with screenings at Stanford Theatre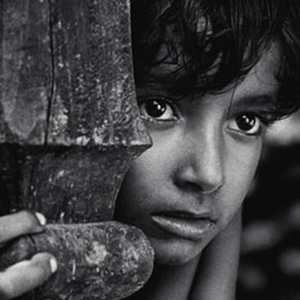 Calling a film a masterpiece ends the conversation right there, but it's not a dangerous word for the Apu Trilogy of Satyajit Ray. The British hadn't been gone 10 years even when Ray made Pather Panchali—an adaptation of a well-known enough book in Bengali; in 1944, Ray had done woodcuts for a children's version of the story.
Allow Ray's friend R. P. Gupta, in the book Satyajit Ray: An Intimate Master, describe the sensation it made. In Gupta's words, Ray "eliminated stagey make-ups, incongruities in costumes and anachronism in period details...that still held the Indian cinema in thrall." He brought the Indian cinema outside and into the village.
In Pather Panchali (1955) the boy Apu is raised in a world of women, of sisters, mother and a gnarled old crone, the needy aunt Indir (Chunibala Devi). The attention to detail of the feminine side of life is so acute that it justifies Pauline Kael's comment that it was hard to believe that a man directed Ray's movies.
The father Harihar (Kanu Banerjee) could be politely described as impractical. Born in the priestly caste, he dreams of being a writer. He vanishes on money-finding errands, after having dragged the ragged family away from the city to occupy a tumbledown family mansion.
Sometimes Pather Panchali seems not so much an Indian story as a Southern one, with the artistic futility of a scion of a once aristocratic family, with the vines winding around the tumbledown bricks, with the cloud-covered Delta-like flats where the kids go to stare at the wonder of an electric powerline and a smoking train. The brass band of geezers mangling "It's A Long Way to Tipperary" could be old Confederate soldiers having a reunion in the town square. Maybe even the shimmer and drone of Ravi Shankar's exquisite sitar has, at times, the aspect of a banjo.
This was the first of three films about Apu, his life in the city, and his rise to manhood...and yes, Apu was the namesake for that controversial Simpsons' character. This trip of films gave the world a window to India that hadn't existed before. Ray (1921-92) worked out of a rented home in Kolkata. He dodged ill health and political strife. Yet Ray's work is always as serene as the ponds he sometimes studies. Akira Kurosawa said that Ray represented the essence of Asian art: like Mount Fuji, "calm without, fire within." Directing in a language that less than a fifth of his nation understood, Ray told stories the entire world can understand.
Pather Panchali (The Song of the Little Path) (1955)
Aparajito (The Unvanquished) (1956)
Apur Sansar (The World of Apu) (1959)
Plays Jan 11-13 in Palo Alto at the Stanford Theatre.