Movies
Review: 'Pirates of the Caribbean: Dead Men Tell No Tales'
The fifth installment of the Disney franchise founders despite its starpower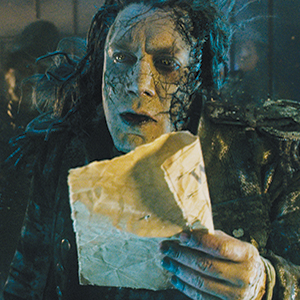 One doubts even Disney's own Thumper the Rabbit could find a good word for Pirates of the Caribbean: Dead Men Tell No Tales, where the ideas have run dry and even the zombie sharks have been jumped.
God bless Geoffrey Rush for what he brings to this dullsville sequel. Titular star Johnny Depp wakes up from his persistent vegetative state whenever Rush is around, and the upstaging is so thorough that it would have meant war if anyone but the genial Rush had done it.
In the last Pirates, Rush's Hector Barbossa had gone uptown, and become a privateer for King George (the late Richard Griffiths). Adorned in new gold braid and velvet, he was curled up and dyed like the Cowardly Lion after his makeover in Oz. As Barbossa bowed and scraped over his majesty, there were little social problems for him to conquer, such as how to eat with a fork. (This beautifully foul pirate stared, dismayed, at the silverware.) Barbossa has grown richer now, perhaps more red-faced from brandy, and is a governor; his new lair is lined with skulls, like that swank Manhattan bar you see in the SNL titles. And in this movie, Barbossa knows how to use a fork—he scratches the lice in his wig with it in between bites of his supper.
In his too-few scenes, Rush sashays with a pegleg, displays the lace in his sleeves and rolls a fine pirate drawl recalling ace of pirates Robert Newton, the actor who taught all would-be buccaneers to say "Arrr" in his performance as Long John Silver in 1950's Treasure Island. Rush is avid and humorous and seems to want to sally forth. If only the movie had been about him. His frenemy Jack Sparrow just seems to want to be left alone. Flirting and kohl-eyed, Sparrow has the thin friendliness of a headwaiter who thinks he's about to be stiffed.
Our first sighting of Capt. Jack is a version of the Chaplin gag in Modern Times, where The Tramp is discovered asleep in the lap of a statue; it's the unveiling of a state-of-the-art bank on St. Martin that reveals a typically drunk Sparrow, conked out in the vault's safe. What follows is a robbery in which the entire bank is dragged by a team of horses and Sparrow's crew. As staged by Norse directors and TV commercial vets Joachim Ronning and Espen Sandberg, it's a particularly blocky piece of slapstick, bruising and heavy hearted. The would-be fun continues—Sparrow whirling around in a guillotine-turned-carnival-ride, a captive pirate having its toenail pulled out for use as a lock pick; the crew hung upside down to be stabbed in their stomachs. There's a serious tonal problem in this movie—the violence isn't even nigh-comic, and keeps happening to characters we don't know about.
Sparrow ends up dead drunk in a pigpen. Whenever a film rolls its lead character in shit, you can tell there were some tense feelings somewhere on the set. Depp gives up so very little in this mandatory sequel that he ends up playing the wicked uncle to a pair of cute lovers who seem to have inherited their jobs from Orlando Bloom and Keira Knightley: Karina Smythe (Kaya Scodelario) and Henry (Brenton Thwaites). Both seek the legendary Trident of Poseidon for different personal reasons.
Out of the Devil's Triangle comes the heavy-breathing nemesis, Salazar (Javier Bardem), the dead and rotting captain of a ghost ship seeking Sparrow. We've seen his rotting ilk before, and better, in the form of Bill Nighy and his tentacle-faced Davy Jones. Even Bardem's wheezing aspiration of the letter h—so menacing in Skyfall—can't liven it up. In an ill-advised flashback, we see Salazar as he was when he was alive, in a silver and black Spanish naval uniform, and he's so dashing we wish we could spend time with him. Anthony de la Torre, who plays his opponent, the young Jack, looks less like Johnny Depp than he does like Weird Al Yankovic. Noisy, stiff and as brash as bad cosplay, this movie is a sea disaster equal to the fate of the Mary Celeste, and it's every bit as untenanted by humanity as that ship.
Pirates of the Caribbean: Dead Men Tell No Tales
PG-13, 129 Mins.
Valleywide