Movies
Pixar Story: Steve Jobs'
Animated Ambition
In new memoir, Palo Alto author details the dawn of digital cartoons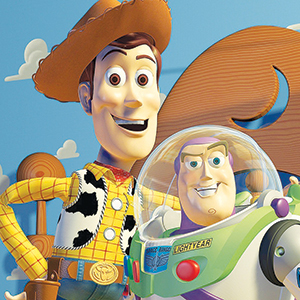 Palo Alto-based lawyer Lawrence Levy was in the room when his client Steve Jobs learned that he had just become a billionaire. It was Nov. 29, 1995, the day of Pixar's successful IPO. Only a few days previously, the box office reports had come in proving that Toy Story, the first feature length computer-animated film, had been a smash hit.
In his new memoir, To Pixar and Beyond: My Unlikely Journey with Steve Jobs to Make Entertainment History, Levy describes how he helped Pixar find a focus, in the days when the fledgling studio was holed up in a relatively small building across from the Chevron refinery in Point Richmond. Back then, Pixar was a few desks, a screening room full of salvaged couches, and a workroom containing the world's only known machine that could transfer a computer image to 35mm film.
On Jobs' behalf, Levy steered Pixar out of the licensing business for RenderMan, an imaging program, which then represented the company's biggest asset. Though Jobs was certainly a man of vision, Levy writes, the Apple co-founder's hopes for Pixar were something "not even Steve could clearly articulate." Until he could figure it out, Jobs kept the company afloat using his own money.
Levy's idea was to get Pixar out of the short films and TV commercials that cost more in time than they brought back in money. Moreover, Levy urged Jobs to offer stock options, essential to keeping top talent from fleeing Pixar.
Ultimately, Pixar became the studio that anticipated the future of animation. In the new century, Pixar would become a partner—on equal footing with its parent company, Disney. But under Jobs' tenure, Pixar was subject to a three-picture deal, and all the cards lay in Disney's hands.
"I don't know what Steve was thinking when he signed this contract," Levy writes of that first agreement. In Disney's defense, they were making what Levy calls "a risky bet on a totally unproven form of animation."
Speaking by phone, Levy says he's neither a biographer nor a historian. "My subject is the experience Steve and I had in Pixar," he says. "If I didn't tell this story, it wouldn't get told. Generally, people writing about Steve leave Pixar as an afterthought, a less known chapter in between his departure and return to Apple. He was almost written off when I'd met him in 1994. Pixar was his comeback."
And, as Levy reveals, that comeback was hard won—through a combination of determination and cold, hard cash.
"You know, I don't think many people would have stuck with it, to the tune of $50 million of their own money," he says marveling at Jobs' persistence. "Steve had so many reasons to sell it or shut it down. There are so many ways computer animation could have gone wrong."
While flirting with buyers and financiers—both Goldman Sachs and Morgan Stanley passed—Jobs mulled over the way computer animation could make money. Would it be better to have Pixar's first film be a live-action movie with animated sequences? Two months before Toy Story was about to be released, Fortune magazine described it as "Jobs' new movie"—which failed to thrill the animators and producers at Pixar, who were the ones actually creating the modern classic.
Toy Story's appeal wasn't even clear to Jobs, at first. Seeing the previews, Jobs complained to Levy, "It plays too young." By contrast, Disney fretted that Tom Hanks' now-iconic toy cowboy Woody was too mean for the kids.
"Every film has its challenges," Levy says—"in finding the story and the arc of the characters. We trusted the creative teams to face the challenge and find the right story. Pixar would go through these crisis, but we'd never take sides."
As for Jobs the man, Levy recalls, "It was a collaboration with a lot of passion and intense views. Everything took a lot of discussion and a lot of resolves. It was a healthy dynamic, one that I valued greatly."
As Pixar rose, the studio stayed in Northern California even though it might have made more business sense to head to Hollywood. Levy sums up Pixar's culture as a hybrid between show-business and "Silicon Valley bravado. At first, we felt we were away from the mainstream...over time we began to value Pixar's position, and tried to preserve its own way of doing things."
To Pixar and Beyond
Houghton Mifflin, $27