Movies
Quartet
Predictable obstacles are overcome as four famed musicians
get together for another concert in Quartet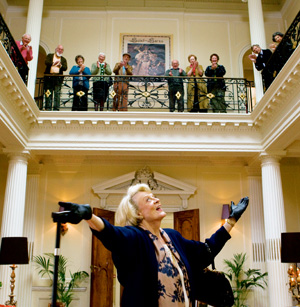 Rather startlingly, Quartet is the first movie to be directed by Dustin Hoffman. You'd never guess in a thousand years he was behind the camera; there's little trace of the actor whose against-the-grain, immersive performances changed movie acting in the 1970s. Hoffman directs according to the Weinstein house style in this cattle call for every British thespian who'll never see the happy side of 60 again.
The story takes place in an English home for aged musicians, and a sumptuous location it is. The film has it that the place was donated by the conductor and laxative heir Thomas Beecham (the model for the Rex Harrison character in Unfaithfully Yours). Quartet was shot at Hedsor House in Buckinghamshire, a Georgian mansion surrounded with block-wide oaks, creeks and a court where the musical geezers can cheat each other at croquet.
When not repeating the maxim about old age not being for sissies, the retirees instruct visiting music students. The film's most charming moment comes when a red-headed girl matches her talent against an insufficiently tuned piano, and an aged resident rises and helps her drown out the flat notes with a clarinet. Earlier, we saw that his false teeth had been interfering with his embouchure, but now he plays sweetly.
The place is in fiscal trouble, and everyone hopes that a charity gala might save the manor. If the show goes on, it will depend on the reunion of four singers whose performance in La Traviata is cherished decades later.
Billy Connolly plays Wilfred Bond, still recovering from a stroke that has left him an erotomaniac. "It's the stroke talking," he says after delivering himself of some dirty reminiscences. His good female friend and co-star Cissy (Pauline Collins) is slipping into senility. The most reluctant hold-out is the new arrival at the home: Jean Horton (Maggie Smith), once a heartbreaker, now so aged and unnerved that even a passing laundry cart makes her jump.
Jean makes a twofold refusal to perform music live. She can't give a substandard performance because "I can't insult the memory of who I was." But the other half of her reluctance is guilt: the fourth member of the proposed reunion is her ex-husband and former partner, already a resident when Jean arrived.
Tom Courtenay, playing the ex-husband, Reginald, asks the question, "Did she know that I live here?" with two different emphases; it's a taste of the range of this powerful actor.
When Quartet grows overfond of its cast, Courtenay cools matters down with his glare. He shows the cold blue light of old age, the irreconcilable hurt. Reginald thought he could count on "dignified senility" in his last years, until the ex-wife who crushed his heart turns up to rekindle the pain.
He holds out, even when Jean begs prettily for forgiveness. In a movie this essentially mushy, Reginald stands tall, impressively eyebrowed and bescarfed, staring off at a classically melancholy English sunset, ending a day that was neither really sunny nor really sunless. There may not be any suspense about whether or not the show will go on, but there's something real in Courtenay's performance.
Ronald Harwood wrote the script, based on his play. It has crowd-pleasing low notes—Connolly's ultimately tiresome comments, most addressed to that beloved player of blonde tarts Sheridan Smith, who plays the cute doctor on the premise. The gala show encompasses different types of music, including some Gilbert and Sullivan and a little music-hall soft-shoe; the end credits show how many of the denizens of the Beecham Home are actually musicians and actors. One, for instance, is the aged Andrew Sachs, who played the diabolically malapropistic Manuel in Fawlty Towers.
Quartet is ultimately a gathering of actors lining up for a curtain call; however deserved that applause is, they have so much more to give than what this trifle gave them.
98 Min. PG-13