Movies
Review: 'Rebel in the Rye'
The J.D. Salinger biopic pulls the viewer in, but lacks nuance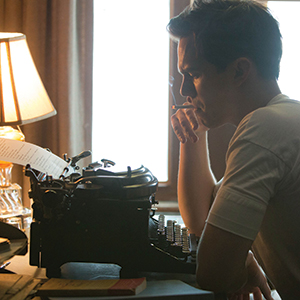 There are two ways to look at J.D. Salinger. The insufferably titled biopic Rebel in the Rye looks at only one of them. One is to consider Salinger as a veteran who triumphed over his PTSD to write the beloved Catcher in the Rye—whose desire to renounce all distraction, all "phoniness" made him turn his back on the world and forbid a film version of Catcher. And it's not that Salinger hated cinema—there are affectionate passages in Catcher about Sir Laurence Olivier's Hamlet (1948) and Hitchcock's The 39 Steps (1935). The other way to look at Salinger is as a snob-prince whose magnum opus created the scourge known as young adult literature: at its worst, so easy to read, so cravenly flattering to the adolescent perspective.
Danny Strong's film has its highs and lows. The war scenes are intelligently sparse, and there's some crafty editing to explain the effect of a photographer's flashbulb on a shellshocked soldier. Nicholas Hoult's almost-extraterrestrial handsomeness makes him the go-to for cult heroes this year (he's starring as both Tesla and Tolkien in upcoming films). Hoult is as good as anyone could be in the part of a man staring at his typewriter. He's a romantic figure, and he slow-dances well.
Given the way Salinger's father tried so many times to crush his son's talent and get him interested in delicatessens, Victor Garber is multidimensional in the role—the softer, moister kind of paternal tyrant. Sarah Paulson is quite sharp as the literary agent who knows how to finesse Salinger's touchiness. The costumes are surprisingly good, the set-decorating less so: bookshelves here have copies of the Grolier's Great Books of the Western World, some years before it became a fixture in every culture-vulture's house.
And then there's the down side: terminally influenced by too many boarding-school movies, Kevin Spacey plays writing teacher and founder of Story magazine Whit Burnett. His teaching is, more or less, bollocks; the use of Faulkner in one class doesn't show the restraint of a writer soft-pedaling his voice. Instead it shows the universal appeal of sex and violence.
Strong makes Salinger's triumph Hollywood-simplistic; the way out of a crippling block is Eastern religion—from the ministrations of a Yoda-like counselor in orange pajamas. Tai chi helps, too; Strong stages this in the same way as the scene in the movie where the MMA fighter prepares for the final battle.
Rebel in the Rye
PG-13, 106 Mins.
Camera Cinemas