Movies
Renoir
In new French film Renoir, the most important sense— and emotion—is sight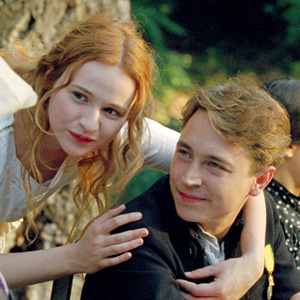 The commercial French films of today may not be breaking any aesthetic or narrative boundaries, but they still play well to a dwindling crowd unnerved by mayhem and loudness of American movies.
They give respite. They haven't changed much in 50 years. Films such as the new Renoir are what Godard and Truffaut were railing about, but ultimately, they survived the French New Wave. Director Gilles Bourdos' Renoir celebrates tradition—even if it is a tradition critiqued from the point of view of the rebellious three sons of the master artist.
The action takes place during World War I. Pierre-Auguste Renoir (Michel Bouquet) is old and diseased in body—his hands almost too gnarled by arthritis to hold a paint brush. The canvases are the last expression of summery idylls, the end of Bouchet's and Fragonard's line.
In person, however, the artist has blunt, almost Germanic manners. He is nicknamed "The Boss." Bouquet has a haywire beard and a bald cylindrical head—his skull is as massive as Sterling Hayden's. His Renoir is a bundle of old-age maladies. When he sleeps at night, he's placed under a wicker shell to keep the sheets from abrading his sensitive skin.
Old Renoir insists things worked out for the best. He started off as a painter on porcelain for the dish-ware industry. He would still be doing that work if industrialization hadn't ended the craft. Ultimately, life is best if you drift like a floating cork down a stream. This passive, peasant viewpoint drives his three sons mad.
The youngest, Claude (Thomas Doret), called Coco, is on the verge of open rebellion—he's been in a smoldering adolescent fury ever since his mother died. Coco has a new cause for his wrath: the arrival of a new model for the old man's brush, a tough yet refulgent demiactress named Andree (Christa Theret). Coco's sexual jealousy at seeing this red-haired trollop nude on a daily basis worsens his mood, especially when he is asked to arrange the props around her as she poses.
Andree also captures the interest of older brother Jean Renoir (Vincent Rottiers) when he returns from the battlefields with a scarlet Y-shaped scar on his thigh. We don't know him as a film director yet, just as there's no indication that Coco will someday be the cinematographer Claude Renoir (one of his achievements was making the middling 007 movie The Spy Who Loved Me look like something you could put in the Musee d'Orsay).
Lensed by Mark Ping Bing Lee (In the Mood for Love), Renoir believes that looking at things is primary—enjoy with moderation, as they say in the wine commercials. There's no underrating the pleasure of watching other people paint, of seeing a sullen if nicely built woman posing in the humidity of the morning, or in visiting Renoir's studio on its steep grassy hill (the artist must be rolled up it in a wheelchair).
Venus and Mars have their traditional battle to a standstill, although in the shot of Jean's and third brother Pierre's soldier friends floating in the sea (a scene sort of borrowed from Terrence Malick's The Thin Red Line), one detects some sympathy for the theory that flesh is everything, far more important than even the War to End All Wars.
When Andree runs away from the exasperating artist and his exasperating son—after infecting Jean with an interest in cinema—it's the girls' fine breasts that the elder Renoir tearfully recalls. They're what the artist misses most.
The movie has a literal streak. Andree says, "I am what I am," when self-excusing her plate-smashing tempestuousness. Jean, asked about the war, replies, "War? It's a war." That's underwriting, not spareness.
At a cavelike club meant to represent postwar futurism—jazz trumpets blare, debauched women dance with women—the young Jean Renoir exchanges significant glances with a passerby, an Erich von Stroheim look-alike with a shaved head and impertinent monocle. That I could have been done without. You don't want to be reminded of Grand Illusion when you're watching a movie that is just pretty.
111 MIN R