Movies
'Rock The Kasbah'
Bill Murray's characteristic dry wit works well for his role as a washed-up
talent agent stranded in Afghanistan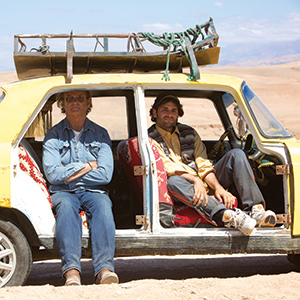 Barry Levinson may be the first to do a comedy about Afghanistan, just as he was the first to do a mainstream comedy about Vietnam (in Good Morning, Vietnam).
Rock the Kasbah has a line about Afghanistan looking "like Aspen, only during wartime." This movie looks like a comedy, only strangely dry. Levinson shot in Morocco. The desert backdrop suits Bill Murray, who uses the space and silence as a frame for his slow, quiet reaction to trouble.
Murray's Richie Lanz is a talent agent full of reminiscences about the megastars he once represented. These days, however, he's scraping the bottom of the barrel—promoting an inept Alanis Morissette cover singer (Zooey Deschanel). A stranger at a bar convinces Lanz to take the girl to Afghanistan on a USO tour. After they arrive in Kabul, she flees, taking Richie's money and passport.
The newly-robbed agent is then double-teamed by a pair of party-hearty arms dealers, whom he meets in the hotel bar. The wily oafs (Scott Caan and Danny McBride) pay Richie to take a dangerous errand into the hinterland. Kept overnight as a guest by a Pashtun village, Richie accidentally hears the glorious singing of Salima (Leem Lubany), who has been hiding in a cave to practice her own covers of Yusuf Islam. Richie is determined to get Salima on Afghan Star, the local answer to American Idol. But her family is outraged at the idea.
The ambient violence in Afghanistan is considered no joke, and maybe the recent news that our troops won't be leaving soon takes some of the fun out of watching this film. Plus a brackish relativism contrasts Salima, enduring her family's fury for singing in public, with a cute, popular local prostitute in Kabul, Merci (Kate Hudson). It's as if this sunny, gold-hearted hooker were a vision of American freedom for women.
The script is by Mitch Glazer, co-writer of one of Murray's best films, Scrooged. Glazer understands Murray, and gives him lines that let him ruminate—in the end, Bill Murray ruminating is a movie in itself. Levinson gives Murray the space and time to stare at Hudson, and to be dazzled by her blondness. Both writer and director respect the singularity of this great comic's persona. They savor the layers of misunderstanding when Richie, held at gunpoint, retells a famous Jack Benny joke to Pashtuns who don't understand English—much less the humor of vaudeville.
R; 100 Mins.