Movies
San Jose International
Short Film Festival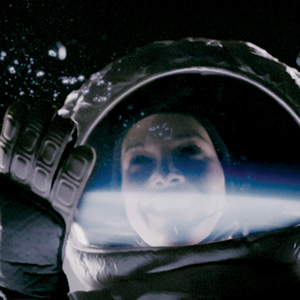 The dozens of entries in the 6th Annual San Jose International Short Film Festival (Oct. 9-12) seem to have two things in common: a high grade of technical proficiency and the presence of a marquee name in a small role. I think the fest's great purpose is as education: networking, budding local film students can see how professional-level filmmaking is done on a miniscule budget, and they can meet the people who did it.
European director Thierry Lorenzi's On/Off, already loaded with festival awards, is an example of how much magic can be got on a pittance. The fact that On/Off has one of the basic seven science fiction plots (a plot that's been around as long at least as the Outer Limits 50 years ago) may be immaterial to how much space station and gleaming earth Lorenzi wreaked at times, almost as much as Alfonso Cuaron got in Gravity. In one line: Meredith (Carole Brana) a beautiful but unwell astronaut, has a very bad day.
Daniel "Cloud" Campos' Today's The Day is about a happy-go-lucky clerk at a talent agency who longs to be a dancer. Campos has restaged the MGM Arthur Freed style in an office with an unimpressed (at first) Mr. Big agent called "Mr. Bees"—he's played by a very nice-guy actor famed for portraying crapulent little men. Let's redact his name: it's supposed to be a surprise when the door opens, and there the actor sits.
Among the other offerings, the un-previewed Spanish film Zugzwang is promising—the title comes from a useful word in chess, meaning "being in the position of having to make a disadvantageous move." A Day in the Life of a Bathroom Mirror is narrated by Tim McInnerny (Percy on TV's Blackadder.) The shot-in-Austin Penance could open for Calvary—it's soaked in the same Catholic angstŠand the co-star here is Stephen Collins, who used to have an annuity playing Reverend Camden on the sugar-frosted TV show 7th Heaven. He's quite a different kind of priest here: desperate, weathered and haunted—strange how actors get more of a human face after work on a long hard work on TV. Call it the Michael Parks syndrome.
San Jose International Short Film Festival
Oct 9-12
CineArts Theatre, Santana Row, San Jose
Individual blocks and panels $12 each/passes are $45-$150