Movies
San Jose International
Short Film Festival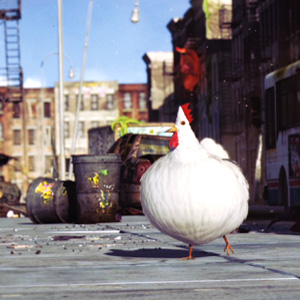 It's THE END of the world, and they know it—the San Jose International Short Film Festival promises, "Time is short, so are our films." The festival, running Oct. 18-21, is part of a wave of film series blossoming at the end of this month. Both the Silicon Valley Jewish Film Festival 2012 and the United Nations Association Film Festival also open this week.
The 25-minutes-or-less Short Film Festival is the latest trend in Northern California, from Healdsburg to Morgan Hill. Local popularity of short films goes back as far as Geoff Alexander's programs for Cine 16 at which 16mm films, mostly shorts, were shown in various venues in downtown San Jose during the 1990s. The recent Stars in Shorts compilation allowed audiences to see the work of rising talents, baited with the marquee names. One of the more interesting Stars in Shorts offerings, Sexting by Neil Labute, turns up at the Short Film Festival.
Bill Hargreaves, co-founder of the festival, is a local entrepreneur. (One of his businesses was Metro's one-time rival The Wave). Hargreaves is as interested in the arts as he is in business opportunities. He also admits that he was looking for an excuse to make his wife let him watch hundreds of films.
"I realize it's not a novel idea," Hargreaves says, "and that there are hundreds of film festivals. I wanted to focus on the short-film genre, so I met with Sinohui Hinojosa at Philz coffee in downtown San Jose."
Hinojosa has run the Santa Clara–based Emerging Artist Productions for some 12 years. EAP is a production house that has catered to various corporate clients, including Yahoo. Meanwhile, Hinojosa had a short film at the L.A. Comedy Short Film Festival. He is also finishing his own Morgan Hill–shot feature film, Dark Harvest ("It's about things that go bump in the night"), which he plans to market at next year's Cannes Film Festival.
Now four years old, the SJISFF has grown from a two-program, 10-film selection to a series of some 67 films from 25 nations. Hargreaves and Hinojosa check out direct submissions as well as competitors from Sundance, Cannes and the 300-film-strong Palm Springs International SFF. This isn't common for film festivals at all, but Hargreaves and Hinojosa still personally screen all the hundreds of submissions.
Hargreaves tells me, "The highlight for us has been twofold. First, it's been getting feedback with the filmmakers—and that's a big highlight over the course of the four years. The second highlight is the audience's response."
Hinojosa recalls talking to a set of parents and their daughter. He learned that all three had a different favorite movie at the festival. This fits in with the festival's plans to address not just one audience but a part of all of them.
The two founders agree that one of the best of this year's festival is Bryan Buckley's Asad, about a fishing village in Somalia on the brink of joining the pirates. It was shot in South Africa with a cast of real-life Somalia refugees.
Craig Rosenthal is a TV commercial maker. His entry, Shanghai Love Market, is unusual; "candy-colored" and "frothy" aren't the usual adjectives used to describe a film set in China. Shanghai Love Market follows the payback to a pushy mom trying to force her unwed son through an arranged marriage, using the People's Park open-air matchmaking market in Shanghai.
Australia's Christopher Kezelos' allegory of creation, The Maker, is strangely moving, and not just because of the music by the classical composer Paul Halley. It's School-of-Jan-Svankmajer in which a stop-motion-animated stuffed bunny rabbit, with disturbingly real and crooked human teeth, begins work on a strange new invention.
I was not so sold on Alex Merkin's Heads Up. Like Seven Psychopaths, it's another set of discourses at gunpoint; the cuter it gets, the less its violence means, and the farther it wanders from real life. Merkin's no novice; he has worked on TV's The Girl's Guide to Depravity and one of Brittany Murphy's last movies, Across the Hall.
Grant Orchard's A Morning Stroll was a semifinalist for last year's animated-short Oscar. It's clearly the one that should have won. Two popular subjects—zombies and urban chickens—meet during the course of 200 strange years.
The U.K.'s Pitch Black Heist, by John Mclean, is the festival opener; it stars the fascinating Michael Fassbender and Liam Cunningham of The Game of Thrones.
Two inept burglars named Michael and Liam attempt a morning safecracking job in London's financial district when it's a Sunday-morning ghost town. Any source of light will set off the alarm. Rather than white-knuckle Rififi heist, what happens is something more akin to one of Jim Jarmusch's Coffee and Cigarettes shorts—even unto the black-and-white film stock, and the eventual bonding over pints and ciggies.
Of the previewed films, I was most bowled over by The Runaway by Barcelona's Victor Carrey. It's not just a small-scale reproduction of large-movie ambitions. Instead, Carrey makes particularly apropos use of the short-film format. The prodigiousness of details in the short would be exhausting at 90 minutes.
You could say there was something slick in the way Carrey made a 50-euro bill the hero of his story. This is just the old magician's trick of taking something valuable to draw an audience's focus: a gold watch or a lady in peril. This strayed piece of valuable paper is the calm at a storm of human energy: of fantasy, combustion and destruction.
"It's so well cut," Hinojosa agrees. "Look at some of the shots that are only five seconds long. It's shocking how good the production is on them."
Here is humanity littering, spilling, littering and staining an urban landscape. A couple of the passersby are fanciful children. These kids are surrogates for Carrey's own daydreams of what lurks just outside our vision, about what might be glimpsed if one took a literal core sample out of a city. There's even a guest appearance by Iron Man.
Meanwhile, slapstick accidents come together, engineered by a careful and malign fate: a waiter napalmed by hot chocolate, an old-fashioned Mack Sennett tumble over a taut dog leash. The Runaway is sure to amaze those who understand the technique as well as those who just let it ride.
If this year's SJISFF is the kind of hit it has been in the past, the founders hope to spread it to two screens eventually. Hargreaves finishes: "We initially didn't know if people were going to be there—so we just wanted to make sure we were showing the kind of films that people would like. The reason why people go to the movies is to be entertained. I went to festivals and I'd walk away more confused. Here, we're trying to show films that amaze and have a lot of heart. I couldn't be more proud of the fest."
(Full disclosure: Metro is one of the media sponsors of the festival.)
San Jose International Short Film Festival
Oct. 18-21 at Cine Arts Santana Row