Movies
San Jose International
Short Film Festival
SJIFF honors 'Guardians of the Galaxy' director James Gunn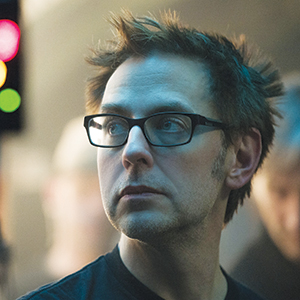 Before he rallied Groot, Gamora, Rocket Racoon and Peter Quill, Guardians of the Galaxy director James Gunn was an independent filmmaker working at the bare-bones level—as per the streety, funny Super. Gunn, attending this year's San Jose International Short Film Festival, is having an award named after him.
Raised in St. Louis, Gunn had his first breakthrough working with the famed low-budget auteur, New Jersey's Lloyd Kaufman. Gunn said he learned about every aspect of filmmaking, from scripting, to choreographing sex scenes, to designing the poster, when working on Tromeo and Juliet (1996) which recently screened at MoMA.
"I was pretty young and this was not the most comfortable thing for this Missouri boy to be doing," Gunn says. "When filming began, my first day on the set of a feature-length film was spent directing the actors. This is a lot different from the theoretical or artistic education you get in film school, and I'm incredibly grateful for it."
It was Gunn's 2011 film Super—about a pair of inept would-be vigilantes, played by Rainn Wilson and a very funny and charming Ellen Page—that catapulted him to the A-list.
"I had spent 15 years making movies by then, had had three No. 1 films," Gunn says. "That was about getting my hands dirty, and pressing forward, no matter what. We did fifty-two setups a day with one camera on that film (Super). On Guardians, we do about twenty-seven setups with two cameras. It was harrowing. I'm glad I did it, but at the time I wasn't so sure."
Gunn observed that the state of indie filmmaking is different from when he started out, and he doesn't find hope in that.
"Independent filmmaking wasn't just a hobby 15 years ago," he says. "You could make a living doing it. There were a lot of theatrical and secondary outlets that aren't available today for independent films. So it's almost impossible today for an independent movie to make money.
"I don't know where the filmmakers of future big studio films are going to come from, if people have no way of honing their craft in low budget films. Fortunately, on the creative side, TV has taken up a lot of the innovations that film used to."
One telling line in Guardians is uttered right before the invasion starts and the shooting begins: "Think of them as paper people." Is that the essence of space fantasy, then, making the Stormtrooper types strictly cannon fodder so that the violence never stings?
Gunn observed, "I think the essence of space fantasy is plugging directly into our imaginations in a way no other genre can. The 'paper people' line has more to do with Drax's warped sense of reality. People get upset about the gore and the violence in R-rated films. When violence is what death is—horrible and ugly—it's a bit more honest than the countless impact-without-blood deaths in PG-13 films. It's something I'm trying to treat a bit differently in the future, especially in Guardians of the Galaxy Vol. 2."
Of the shorts previewed for the SJISFF, two stood out. Jake Honig's Black Swell is quickly punchlined, yet it has texture. The suicidal Fennimore (Richard Kind, of TV's Gotham) is getting ready to eat his snub-nosed revolver. Before he can settle down to die, he has to confront a neighbor whose music is on too loud. Honig keeps a tight hand on this, and Kind's Fennimore is convincingly desperate.
In the Lausanne, Switzerland-set Jewish Blind Date, director and writer Anaelle Morf satirizes masquerade and self-delusion. As a method to punish her mother for getting divorced, Miriam, neé Mary Lou (Estelle Parnault) has gone ultra-conservative: she's attending a Jewish meet and greet to get a husband. Christian (Axel Fernandez), the buddy of guy who is supposed to be wife-shopping, takes his Jewish friend's place, and brazens his way through the shared meal. He finds this blushing, cutely gawky lady is actually his idea of a mate. This short romance feeds on the essence of screwball: a story of lovers possessed with rigid ideas, learning to discard them as the unnecessary burden they are.
San Jose International Short Film Festival
Oct 20-23
Santana Row, San Jose