Movies
Review: 'Sausage Party'
Finally, the raunchy, R-Rated parody of 'Toy Story' no one was asking for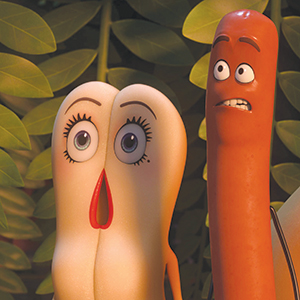 Wrong on so many levels, the R-rated Sausage Party is a parody of Toy Story; one abject bath salts-abuser drives around with a "Pixar" bumper sticker on the back of his beater car. In a supermarket, the joyous pack of hotdogs can't wait to get between the vertical lips of the waiting buns who are saving themselves for when they're purchased. That day will come soon, since the store has bunting hung for "Red White and Blue" day when weiners get snatched up and bought.
What these happy, pious products don't know is what actually happens to food when it arrives in a kitchen—that there will be peeling, roasting, wailing and an apocalypse of gnashing teeth. Tipped off by a jar of mustard that's been returned to the store, these food items learn of the horrifying fate awaiting them.
Frank the hot dog (Seth Rogen) escapes after a grisly accident—one of the better Sept. 11 jokes ever made on the big screen. He tries to find his lost bun Brenda (Kristen Wiig) amidst the ethnic stereotypes of the international section: there's a lesbian-curious taco (Salma Hayek), an Arab lavash and a put-upon Jewish bagel. The latter two work out their ancestral Jewish and Muslim hatreds. In one tired joke, the lavash thinks he has 77 bottles of virgin olive oil waiting for him in the afterlife.
It's scantily villained: a rapacious and juiced-up plastic bottle of douche is called, appropriately, "Douche." Played by Nick Kroll, Douche lives up to his name by running around, preying on the products around him. He's not in on the master-plot, trying to counter Frank's efforts to dispel the religious mystification which has kept the groceries leaving the store in an orderly fashion to their doom.
Occasionally funny and pun-laden (the hotdog believes in "bunogamy"), it's a roundly obscene version of the kind of animated-produce cartoons of the olden days—say, the Fleischer Brothers' 1939 "The Fresh Vegetable Mystery." The animation gets the job done—the reference to the cute white gloves so many animated critters wear was quite the choice.
But Sausage Party has a crowded composition that'll look better on the smaller screen, and the background jokes aren't worth much. Mocking Pixar is fine, but at least that painstaking studio would have known how to introduce love—instead of a scenario in which no product can wait to get some hot sex on the shelf.
Sausage Party
R; 88 min.
Valleywide