Movies
So Excited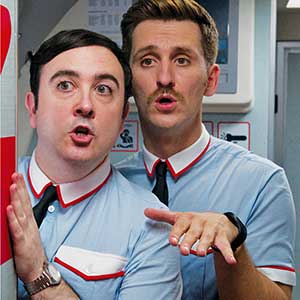 It's a flight into panic—homosexual panic—for Peninsula Airlines Flight 2574, heading from Madrid to Mexico City. The landing gear is broken, but at least everyone will die in a state of flamboyance. The Airbus is gaily painted in tropical, ultra-Braniff colors. The stewards are here, queer and performing karaoke to the Pointer Sisters to entertain the cargo of sinners aboard. Pedro Almodovar's frisky and very funny I'm So Excited parodies a real warhorse genre, familiar to most living film watchers only from the parody Airplane!. It was a real genre, and popular enough to inspire knockoffs like SOS Concorde; in one after another of the Airport movies, washed-up actors awaited the inevitable crash, suffering through their myriad soap-opera problems.
These are the damned: a chirpy psychic (Lola Duenas), Doris Day-like except in her desire to lose rather than keep her virginity. There's a chic celebrity dominatrix (Cecilia Roth) doing the trad late-Ava Gardner role, and there's also a Mexican hit man who looks more like Frank Zappa than a Reservoir Dog, despite the black suit. He gets the most Almodovish of the Almodovar lines: when a lady protests, "Life has no value in Mexico," he responds, "That's not true. Some people pay millions."
The gay film—and this is plenty gay—tends to make the female characters the chubby, gawky best pals, but Almodovar loves to idealize women. On the ground, there's a pair of particularly stunning love objects: one a summer-dressed bicycle rider (Blanca Suarez), the other a very chic and distressed artist (Paz Vega) in paint-spattered bohemian clothes. The two are linked by the plummet of a cellphone and the misdeeds of an airborne jerk.
It's all fluff, as fleecy as the foamed runway, spread out, as it were, as an opportunity for the poor tired airplane to have a bubble bath at the end of its hard day. It's as pretty as the closing-credits tune "The Look" by Metronomy.
I'm So Excited is slight—and it's been facing critical rumblings about issues of lacked stature, our nation's critics whipping off their eyeglasses and gesturing with them to prove their seriousness—it makes you wonder if more titanic movies are worth the trouble.
Almodovar's firm grip on the color wheel results in a tremendously good-looking film.
R; 90 Min.