Movies
Review: 'Straight Outta Compton'
F. Gary Gray's 'Straight Outta Compton' follows the rise of N.W.A.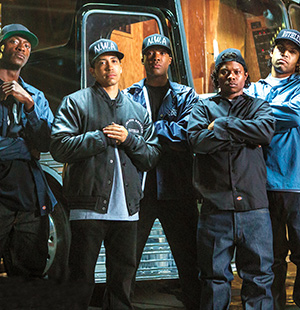 The new biopic Straight Outta Compton, which chronicles the rise of gangsta rap pioneers N.W.A. (an abbreviation of Niggaz Wit Attitudes), may deserve an acronym of its own: MWP, for "movie with platitudes." The engrossing, but seemingly endless, Straight Outta Compton by F. Gary Gray condenses more than a decade in the careers of Dr. Dre and Co.
They start up in a South Central nightclub in the waning days of disco—vinyl on the record players, white acetate busboy-like jackets of those who work there. Repelled, Ice Cube (O'Shea Jackson Jr.) executes what must have been the very first mic drop on stage. Later, after a vicious rousting by the Torrance cops, N.W.A. composes "Fuck Tha Police." It becomes a national hit and a matter for investigation by the FBI.
Aiding their career is a hustling promoter, Jerry Heller (Paul Giamatti), dewy eyed with sentiment, treating Eric "Eazy-E" Wright (Jason Mitchell) like a son (or like a catamite, if you believe Ice Cube's Jew-baiting battle-rap "No Vaseline"). Meanwhile, the hulking Suge Knight (R. Marcus Taylor) waits for the spoils, rubbing his palms and licking his lips.
Straight Outta Compton has admirable forward thrust, especially during the opening scenes of the paramilitary LAPD in the days before the South Central riots. This movie has a readymade relevance to the police violence nationwide today. But it also makes the usual rounds of the showbiz bio—strife with other members, trouble with the law, terminal illness and record company people who say things like, "The contracts are being finalized as we speak."
This leaves little time for romance, and this may be the only non-Australian movie I've seen that considers women essentially a separate species, divided into hos and hard-slapping moms. I hate the game, but I don't hate the players: Jackson, the actual son of Ice Cube, is the real standout and shows what his father was like before he became the guy from Are We There Yet? If Mitchell's humor and ease keep the movie buoyant, all of Compton's best scenes seem enlightened by Jackson's acting.
R; 147 Mins.