Movies
Review: 'Suspiria'
Now streaming, this excellent horror remake went relatively unnoticed in America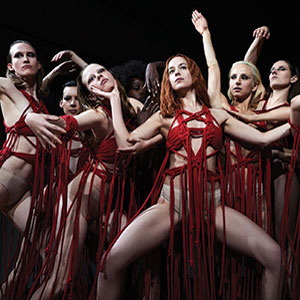 Haunted houses are bad, but what's really frightening is a haunted city. Suspiria was one of the best of 2018, but it had a too-short release and then wasn't made available through its distributor until last week.
Suspiria—"six acts and an epilogue in divided Berlin"—shows a coven of bloodthirsty witches as just one cadre of plotters in a city riddled with them. It unfolds during the "German Autumn" of 1977, the era of the Red Army Faction, of kidnappers and terror bombings.
The audio backdrop to this story of fear isthe warble of German police sirens, and helicopters hovering over the scenes of crimes.
Luca Guadagnino, of Call Me By Your Name, and his cinenamatographer Sayombhu Mukdeeprom (Uncle Boonmee...) aestheticize the horror, making it surreal and full of dread.
In the pretitles, a patient bursts in on the aged German psychiatrist Dr. Joseph Klemperer (Tilda Swinton in one of a series of multiple parts). The young girl Patricia (Chloe Grace Moretz) is as sing-songing mad as Ophelia. She has tales of persecution. They're stealing her hair and urine, and they're threatening to gut her. She leaves behind baffling notebooks filled with strange geometric patterns.
The titles are scored with a chilling D-minor waltz—penned by Thom Yorke of Radiohead—performed on what sounds like an imperfectly tuned dance studio rehearsal piano. We witness an Amish woman (Malgorzata Bela), mutely pleading for death.
In Berlin is a brutalist performance hall of streaky green marble and dingy curtains. It's the home of the Markos Tanzgruppe, where a new dancer, Susie (Dakota Johnson), is moving into the dormitories.
Susie was raised Amish, the daughter of the dying woman we saw. The American girl's skills attract the one reasonably warm instructor there, Mme Blanc (Swinton again). Behind the walls of the dance troupe, the inner circle has a divisive vote on their leadership. Neither side is particularly happy with the outcome. The wit of David Kajganich's script is that organized religion, even the satanic Old Religion, is just politics by other means.
Suspiria takes The Red Shoes or Black Swan to the next level of horror.
If there is an alchemy in ballet—making the human body do what it normally can't—it explains a favorite movie fantasy that with choreographed beauty comes a sacrifice. What if everything that an artist talks casually about regarding the "ritual" in their arts came true?
The biggest idea in Dario Argento's 1977 original Suspiria was an Unholy Trinity of three mothers, older than the Fates. That's the most important carryover into this new version—at its finale, in an underground witch's sabbath. As in the 1977 original, there are fantastically shocking images even before the climactic bloodbath. The literal meaning of "torture" is to twist a person like a screw. The crumpling and spindling of the dancer Olga (Elena Folkina) by supernatural forces is edited to mirror Susie's first triumph as a dancer.
Johnson, slim and scarlet-wigged, here survives the 50 Shades magillah, and proves herself to be a powerful, fearless dancer, and a mysterious central figure.
There are unanswered questions here. One is how the Markos group was able to survive the decadent art-hating Third Reich. In their one public performance here, the troupe wears tattered, blood colored costumes and Byzantine eye makeup. They dance on a floor that's covered with a peculiarly elaborate sort of geometrical figure: a pentagram that went to grad school. Their piece, called "Volk," was originally created in 1938.
"Folk" was a loaded word in Nazi Germany, as in the slogan "One people [ein volk], one empire, one Fuhrer." We're never entirely sure whether these witches, with their great appetites for pain and suffering, helped to elevate Hitler, or if he was just something they ignored during the performance of their ancient rites.
You'll hear that it's tasteless to tart up a horror film with the ultimate horror of the Reich. But evil is evil, and horror films are all about the parts of the human story that do not admit light. But Suspiria is not completely morbid; the movie goes completely emotional in its last shot, as the camera pulls up to note the last relic of a love already erased from life by witchcraft and history.
Supiria
R; 158 Mins
Now Streaming