Movies
Review: 'Take Me to the River'
'Take Me to the River' captures an adolescent's sense of estrangement
as he attempts to navigate two very different worlds.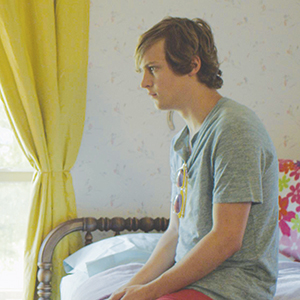 Rural Nebraska is the setting of Matt Sobel's semi-autobiographical, mostly imagined feature film debut Take Me to the River. That's 1,500 miles from the Willow Glen suburb he grew up in. It's notable that a drive from Milan to Madrid is shorter by 500 miles. In Sobel's film, that kind of geographical distance informs the cultural differences between his hometown in California and the Nebraskan farmland where his annual family reunions used to take place.
Take Me to the River, which premiered at the 2015 Sundance Film Festival, captures an adolescent's sense of estrangement as he attempts to navigate two very different worlds: one that is safe and familiar, and another that is disorienting.
The film's 17-year-old protagonist is named Ryder. In sunny California, his parents matter of factly accept his gay identity. Unbeknownst to Ryder, the rules about this easy acceptance begin to change as they arrive in Nebraska. In talking with Sobel about his intentions for the character he explains that he wants his audiences to feel Ryder's confusion and disaffection.
"I definitely went into it with wanting to make his fish out of water situation as intense as possible," Sobel says. "And at the core of that is suddenly feeling like a foreigner amongst your own family." Without ever revealing his sexual orientation to his extended family, Ryder lands in Nebraska "with some pretty strong assumptions about how (his extended family is) going to feel about him," the director notes.
But it isn't just Nebraska as a place that destabilizes Ryder. His 9-year-old cousin, Molly, is enchanted with him the second he dons a pair of cherry red shorts. During the family barbecue, Molly begs Ryder to walk and play in a nearby barn. They leave as innocents holding hands but something happens in the barn. Molly returns to the party a few minutes later screaming at the top of her lungs with blood stains on her floral print skirt. Ryder claims she fell from a hay bale and is mystified by her extreme reaction. The family, not knowing that Ryder is gay, at first suspects the worst. That's when a Californian might think why doesn't he just come out?
Sobel answers like a true writer and director who holds all the threads of plot and character in his hands: "His orientation might, in California, be an exonerating piece of evidence; in a different location, it might be evidence to further indict him. That completely baffling twist that happens for him is one of the tools that I thought was best able to strip him of his power, if he's really used to relying on his logic and his argument."
He is justifiably baffled and unable to find his footing—and Logan Miller, the actor who plays Ryder, deftly captures his character's bewilderment. "Miller seemed comfortable being uncomfortable," Sobel says, explaining why he chose the Disney Channel actor (I'm in the Band) for this decidedly non-Disney tale. As it turns out, Miller's background in sitcoms was an asset. "He could really capture that ... 'I don't know if I should laugh or scream' awkwardness."
As for the psychology of the character Sobel added, "We spoke a lot about what it meant to be seventeen. My experience being that age and what his experience was like."
Where the film excels in particular is in turning this awkwardness into a palpable sense of menace. Shots of pastoral beauty are intercut between the narrative development: open fields of green, trees undulating in the summer breeze, a lazy river deliberating over which way to move. But this bucolic imagery is pointedly placed after each dysfunctional family scene. For someone queer who finds a reasonable amount of acceptance in the Bay Area, Take Me to the River offers a primer on what it feels like to travel through a hostile environment. The film implies that when states like Georgia and North Carolina pass anti-gay laws, that regional sense of intolerance nullifies every last iota of rustic charm.
The film's production designer and cinematographer both did a smart job of signalling that sense of discomfort. According to Sobel this was his intention: "As the characters and their motivations and the situations become more insidious, the visuals moved in the opposite direction, to become warmer, simpler compositions, more primary colors like a child's coloring book." That and the use of sound, he says. "There are all sorts of ways that the insect sounds can be used to make you feel suspense. Anything you can do with music, we basically did with insect sounds." By the end of this family picnic, you'll want to click your heels together three times and quietly mouth the words: "There's no place like home."
Take Me to the River
NR; 84 Mins.
Camera 3, San Jose