Movies
'The Better Angels'
An adolescent Lincoln gets the silent treatment in 'The Better Angels'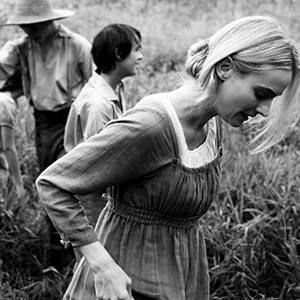 However Wearyying it got, The Better Angels is unique—an impressionistic movie in black and white and CinemaScope, made about the most fascinating man America ever produced. The Better Angels shows how much Walnut Creek–born director/writer A.J. Edwards absorbed the style of his producer, Terrence Malick.
Seeing what amounts to Malick by proxy makes one wonder how every important incident in American history would look done with similar diaphanousness. Our land was a new world once, and I love Malick's Whitman-like reveries; they're tremendously convincing in his masterpiece Tree of Life. But is the youth of Abraham Lincoln the proper subject for wordlessness?
So much of what happened in our nation was provoked by oratory, by which I mean speeches full of words and references few alive today have the brains to understand. You can compare and contrast Edwards' treatment of young Abraham Lincoln here with the treatment of young Bruce Wayne in TV's Gotham—Batman being a figure admired about as much as Lincoln is today. Young David Mazouz displays unbending fierceness and rectitude, foretelling the hero to come. The boy Wayne is often posed in front of David's 1784 painting Oath of the Horatii to show us a child of Napoleon-worthy destiny. Braydon Denney, as the young Abe, is described in murmuring voiceover as a phenomenon, but it's hard to get the sense of his specialness on his own. He is often one of a crowd of pioneers in 1817, living in a windowless cabin in the deep Indiana woods. While survival depends on cutting down trees and ploughing up dirt, there's a bit of milling around involved; Edwards insists on the playfulness of the era, through maypole dancing and wrestling.
Edwards researched his film with seriousness, using the Mohonk Mountain Preserve in Kerhonkson, NY, for the now-tamed Spencer County, Indiana. (The actual Indiana location, with a replica cabin, is 10 minutes from an interstate today.) It's a historian's task to find out something about the woman Lincoln described as "my angel mother"—Nancy, who died when Abe was 9. She's still a mysterious figure. One of our spookiest actresses, Brit Marling, plays Nancy as if she's half in and half out of life. Edwards contrasts the care and love Abraham's mother gives with the harsh practical learning passed on by his father, Thomas (Jason Clarke). To Edward's credit, and thanks to the skill of Clarke, Thomas is not portrayed as a rube who can't understand his intellectual son. Instead, Thomas is a hard-working, morose man who fails to understand how far his son needs to go. Thomas' new wife, Sarah (Diane Kruger), continues to gently stress that this book-loving child will never be a farmer.
In moments, The Better Angels seems perfect—the cabin in the woods under the bare trees today signifies a horror movie, usually, instead of the nation's roots. (There was horror; Lincoln wrote a poem once about how he could still remember the singing of a neighbor driven mad by the farming life.) The sweetening can be flower-child worthy. Some of Better Angels emulated the tone of Carl Sandburg, the biographer whom critic Edmund Wilson described as just a little less cruel than John Wilkes Booth. Wilson noted with scorn Sandburg's description of Lincoln's mother calming the crying baby Abe with "Hush thee, hush thee, thy father's a gentleman!" We don't get that kind of cornmeal mush, but Edwards can't quite visualize Lincoln's looming destiny—it would have taken some kind of words, and I don't mean the usual hagiography.
Lincoln's law partner, William Herndon, once described the great man's ideas: "The past to him was the cause of the present and the present, including the past, will be the cause of the grand future and all are one, links in the endless chain, stretching from the infinite to the finite." That's like a definition of Malick's aesthetics as a filmmaker. Still, it's a dubious Lincoln we're offered here—that figure, all the more missed, as the nation he died for seems so close to wrenching itself apart today.
The Better Angels
PG; 95 min.