Movies
The Broken Circle Breakdown
Loss—and then disillusionment—takes a toll on a couple in The Broken Circle Breakdown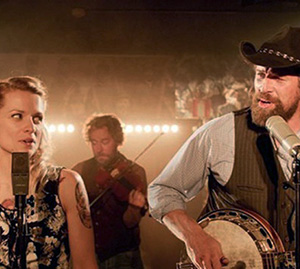 The Belgian import The Broken Circle Breakdown, originally titled Alabama Monroe, has death as its subject matter, and the soundtrack is full of songs in the key of (the end of) life. It earns its title reference to the Carter Family's tune, about the contraction of the family circle.
The movie tries to be euphemism-free—it often shows Flemish skill in warts-and-all depiction: the disjointed scenes are connected with lively bluegrass, while showing sex as a pale, two-backed beast with elbows, butt and the soles of indifferently washed feet. (The film's poster misleads a bit, emphasizing the nubile skin of the lead actress Veerle Baetens, instead of her character's sorrows.)
Director Felix Van Groeningen gave his plain tale a temporal scramble. Unstuck in time, Didier (Johan Heldenbergh) and Elise (Baetens) shuttle through their lives, and the crisis of their daughter Maybelle's leukemia. Van Groeningen matches shots of the 6-year-old girl: she's first in a cowgirl hat, then in a cancer turban. We see the hospitalization of the child before we see the courtship of her parents, when they meet for the first time at Elise's tattoo shop.
In one scene, Elise is a free spirit, slight, blonde but with a tough jaw like Lily Taylor, spangled with old school Americana tattoos. Blink, and she's a mother turning inward into sorrow. Heldenbergh, who looks like a hairy, rough mashup of Tom Waits and Warren Oates, plays Didier as a courtly, carefree banjo picker with a farmhouse he's slowly renovating. Loss turns him into a bitter crank and haranguer.
The decay of Didier's Americaphilia is the undertone to the story of loss. On the day he meets Elise, Didier says, "I've been crazy about America all my life. It's a country of dreamers." But after their family crisis, and after eight years of watching George W. Bush—particularly Bush's save-the-stem-cells veto—Didier isn't quite so sure about the USA. Didier blames the obstruction to stem-cell research on the doctors' failures to rescue his daughter, and he interrupts a big show at an opera house to rave about organized religion and the Pope.
It's seeing him on stage like that—temporarily reunited with Elise—that the movie started to lose me. I don't think you can rally the energy to dislike a movie unless you started to like it first. Certainly, the mourning scenes have bite, when we're watching as a child's nursery is dismantled and painted over. And Didier's band is flawlessly tight. They're such a unit that, even in time of ultimate sorrow, they can extemporize an a cappella cover of "Go To Sleep Little Baby," made famous on the soundtrack of O Brother Where Art Thou?
Didier loathes the idea of an afterlife. He may sing "There's a better home a-waiting in the sky, Lord." But he refuses to go along with even the very least and most fanciful of his wife's tender thoughts about where their daughter's spirit is gone. When he has a breakdown during his band's biggest show, it's baffling—how many bluegrass fans are there in Belgium, anyway, and how can you get them to fill all three levels of an opera house? How did Didier afford his dentless big American red truck and the place he's ranching? Who takes care of the picturesque farm critters when he's off picking his banjo?
The movie doesn't just caricature atheists, it's also a little overproduced, too taken with the feat of turning a bit of Belgium into an analogue of a Kentucky horse farm. The Broken Circle Breakdown seeks tears, and it might have gotten them if Didier and Elise were like most people who are music-exiles—if they were like the kid of 2013 who covers his jacket with the names of decades-dead punk bands, or the teacher who listens to Piaf by herself and fantasizes about Montparnasse. If Didier's fantasy America was enshrined in a small, musician-budget apartment, someplace in the city-so-shitty, we might have felt more for him and his dream of a land of dreamers.
The Broken Circle Breakdown
Unrated; 111 min.