Movies
Review: 'The Disaster Artist'
James Franco makes a biopic for the true Tommy Wiseau believers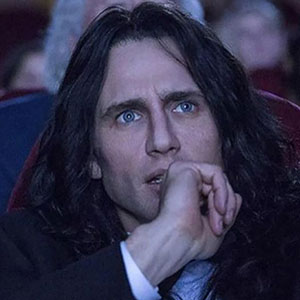 This one's clearly for the fans. In The Disaster Artist, we watch actor and man of mystery Tommy Wiseau (director and star James Franco) wreak his indie film The Room (2003) with a bottomless bank account and a beleaguered cast and crew. Bulked up and with dyed death-metal hair, Wiseau was a natural to play heavies—"Caliban," decides a director (Bob Odenkirk), seeing the man audition. But he sought to be a mainstream romantic star. Men like him seem to come from Transylvania, though Wiseau claimed he was from the bayou; Cajun-ness might explain the dropped indefinite articles in his speech. A clue to the Wiseau Enigma is the passing mention of an accident that almost killed him—the cause of something that would interest a speech therapist? ("Waaa accent?" he asks, incredulous.)
The Disaster Artist is strict bromance. The inexperienced Greg Sestero (Dave Franco) is whisked to Los Angeles to stay rent-free in Wiseau's L.A. view apartment. James Franco flirts a bit, but this Wiseau shows no romantic interest in anyone. Greg gets the secondary part in The Room as the best friend who destroys Wiseau's would-be marriage. This goes meta into real-life betrayal, as Greg moves out of Tommy's apartment to live with his girlfriend.
Franco recreates Wiseau's ability to turn on a dime: "I did not hit her, I did not hit her, Oh, hi Mark." He celebrates the seismic tonal shifts of The Room's deathless sex scene, in which a single long-stemmed red rose, flickering candles and fluttering chiffon curtains are juxtaposed with the humping of Wiseau's beefy ass.
It's a benign salute to a midnight melodrama. As in Ed Wood, Franco gives his auteur a gigantic klieg-light premiere for his film, which never happened; The Room was more discreetly four-walled before it took on a life of its own. At the end, Franco does a shot-by-shot comparison to show his devotion. Blocking and lighting aside, James Franco can't always match the Wiseau-ness of Wiseau. Franco broadens Wiseau's swipe from Rebel Without a Cause to a nigh-Bostonian gargle: you're tearing me apaaaaaarrt.
Maybe The Room particularly affects actors, who never really know the measure of their worth and have to gamble on every role, little knowing how the movie will play. They may not be able to write or direct, but they sure can feel.
The Disaster Artist
R, 98 Mins.
Valleywide