Movies
Review: 'The Girl in the Spider's Web'
Claire Foy and Lakeith Stanfield help spin a wicked tale in latest 'Dragon Tattoo' entry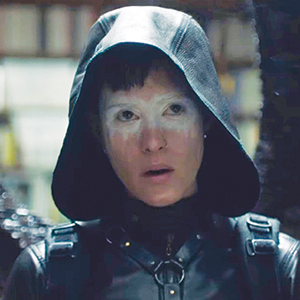 It's the same rejected 007 script plotting, with tunnel-sized holes in the logic; the same stretched coincidences (one involves a wanderer in the woods emerging at precisely the right moment on an empty country road). Still, The Girl in the Spider's Web, the new Lisbeth Salander adventure, tops the three-part, one-English-remake series. It has the sharpest, deepest actress in the title role, Claire Foy of First Man. It also has a particularly avid director, Fede Alvarez (of Don't Breathe, that ingenious reversal of Wait Until Dark).
With soaring, well-engineered drone shots, labyrinthine tracking, and rough-looking locations, Alvarez makes Stockholm a character in the film. In previous installments, the Swedish capital tended to look like the subject of a travelogue, with sidewalks clean enough to eat off of. This time, the city looks threatening—lots of frosty, dingy concrete, cruel modernist offices with inferno-themed art flickering on the walls, and dark clubs where the black-clad avenger curls up in pockets of light.
Lisbeth has come up in the world. This time, it's not all about hog-tying and buggering rapists. Instead, she's heading off nuclear war. Hired to retrieve a computer program called "Project Firefall," she hacks it out with ease from the NSA. This spurs a hunt from a smart American agent (the impressive Lakeith Stanfield) as well as the Swedish secret police. But that infamous gang, "The Spiders" (hi, Fritz Lang!), run by a mysterious red-clad woman (Sylvia Hoeks), is also interested. On Lisbeth's side is a savant child (Christopher Convery) as well as her old pal, Mikael the journalist (Sverrir Gudnason). He has the kind of yearning partnership with Lisbeth that the sidekick Willie had with tattooed secret agent Modesty Blaise.
Foy's Swedish accent is forced—she sounds like someone playing a Soviet commissar—but she doesn't say much anyway. Foy has the unadorned strength in plainness that's so much more interesting than prettiness. Alvarez escapes the doleful and unbelievable realism of the series to date, and makes it fun. Lisbeth drives a black Lamborgini like she stole it, because she did; she braves bullets, tasers and goons, and ascends into a cobwebbed old citadel full of terrible memories. Fans who have been yearning for a film about Selina Kyle—the lone tough bisexual version of today, not the purring 1966 edition—will want a look: This Lisbeth is just one mask and two pointed ears away from being Catwoman.
The Girl in the Spider's Web
R; 115 Mins.
Valleywide