Movies
The Invisible Woman
The Invisible Woman tells of Dickens' mistress with
just the right amount of Victorian detachment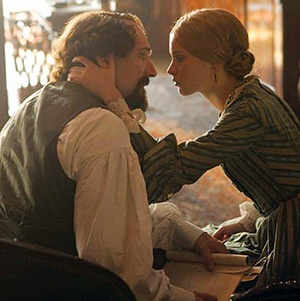 Ralph Fiennes continues to demonstrate style, sensitivity and inquisitiveness in The Invisible Woman, to be filed with Angels and Insects and The French Lieutenant's Woman as studies of the sexual contradictions of the Victorian era.
Directing and playing Charles Dickens, Fiennes avoids the usual gambits of adapting Victorian literary material; consider what happens to that smoking pufferbelly train that you always see in Dickens movies. Fiennes also makes a radical shift from the uber-male virtue story Coriolanus to trad-women's picture material.
The film is about Charles Dickens' love affair; he was 45, Nelly Ternan, the woman he loved, was 18. The famed author—mobbed everywhere he went—tried keeping the lid on the scandal, seeking plausible deniability in writing to The Times. His wife, Catherine (Joanna Scanlan), the mother of his many children, is well-played as a sort of demi-Queen Victoria: wronged, yes, tragic, yes, but obese, stationary, jowly and disapproving.
The wife's immobility makes a fine visual contrast with Nelly (Felicity Jones). Her narrow circumstances are symbolized by the narrow staircase that her family, a tribe of actors, uses to haul up their trunks and luggage. Dickens' lover was a semi-talented actress who inherited her job. Her mother Fanny (Kristin Scott-Thomas) once played Desdemona to Edward Kean's Othello. It's not easy to act around a bonnet, and thus the lovely Jones is photographed in encircling shots from the back of her neck, swiveling around to her in three-quarters profile; Fiennes contemplates her nape like a Japanese woodblock artist. It's a fine, mysterious and recessive performance. Look at a picture of the real Ellen "Nelly" Ternan and the mystery is solved: you understand instantly why Dickens fell in love. Ternan's eyes are extremely sympathetic, and she looks wiser and more mature than Jones does, even in later scenes in the 1880s when Nelly would have been in her 40s.
The script by Abi Morgan is too conventional. It's a 21st-century study of a 19th-century affair; it's suspicious of a middle aged man's creepy motives. Fiennes doesn't paint the usual corners of this kind of story—he doesn't show us the way the scandal spreads through London. The art of cutting someone dead is demonstrated nicely as Dickens goes on his rounds. (Dickens is a fast walker, just as the editing here is quicker than you expect for a period piece.)
The Invisible Woman handles an incident of infant mortality with brisk coldness, authentic to the period. Similarly affecting: Dickens prowling the alleys to see slum children out in the night. It's piercing in the way the Save Our Children charity commercials aren't. Here's the answer to making a film about writers, with their visual static lives. Don't show the writing (or the droning, as they read aloud at a drowsy picnic; that, sadly, happens here). Show the research they do instead. Show them out in the world.
The Invisible Woman teases the question of whether one might accept being the back-street lover of a powerful person. Would it be worth it, to have all to yourself a small part of a rock star, president or actor, if to say, if it meant being the first one to read Great Expectations, with the ink still damp on the page? But then The Invisible Woman makes its position clear, in the flashback of Nelly on stage saying "This is a tale of woe…" followed by an a capella version of a dire Irish ballad.
The ending doesn't negate the sting, the chill and the romance of what we'd seen, but it compromises the story with disapproval. So does the script's choice to remove Fanny from that fateful day at Staplehurst (don't Google, it's a spoiler). Fanny's presence would have proved Dickens even more ruthless about keeping his good name than he was already. But it would also prove that if Fanny didn't actually procure her daughter for the famous man, she ultimately accepted the relationship. Fiennes' Dickens has blood in him: if it's cold blood, it's still blood. There's enough going on in The Invisible Woman to demonstrate that Fiennes isn't just an actor to admire, but a director to watch.
111 MIN; R