Movies
Review: 'The Last Movie' & 'Along for the Ride'
Two films—by and about Dennis Hopper—screen at 3Below Theatres & Lounge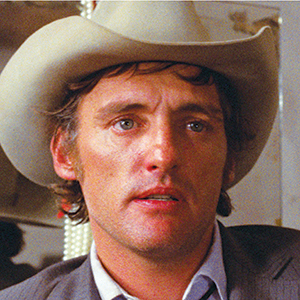 The who's song "Behind Blue Eyes" could be addressed to the angst of the Dodge City-born director, actor and artist Dennis Hopper—a man too handsome to play anything but desperados. Hopper's breakthrough was Nicholas Ray's Rebel Without A Cause, where he played a character called "Goon." As an actor who recovered from a drug-induced breakdown in the decades that followed, he was unforgettable (as the satanic yet infantile Frank Booth in Blue Velvet), or very good (River's Edge, based on a crime in Milpitas) or even capable of enduring a very bad movie (Waterworld).
Hopper's directorial debut Easy Rider (1969) was a worldwide hit, and the film and its director were heralded as a voice of a generation. As a result, he was given the opportunity to do anything he wanted. What he wanted was to give a big bite to the Hollywood hand that fed him in a film he called The Last Movie.
In The Last Movie, Hopper plays a decadent director on Peruvian location, whoring and drinking, while conversely being a figure of Christlike self-sacrifice. (The stance works, in the same way that Michelangelo's Goliath-sized statue of David doesn't seem like a mixed metaphor.) It suggests the idea of the arrival of cinema at a rural village at 14,000 feet as something like a massive toxic waste spill. Godardian breaks and deflections are the result of Hopper's editing down of a four-hour film in a Taos, New Mexico manor, aided with what Ray's widow recalled as "ounces of cocaine."
Critic Pauline Kael, while not a fan, heralded the film's "amazing visual style," and credited both Hopper's composition as well as Lószló Kovócs' majestic photography. The cerulean blue of the South American skies matches often excellent acting—in particular Shirley Knight, Sam Fuller and Michelle Phillips, Hopper's wife in a marriage that lasted just eight days.
The Last Movie screening, marking the restored film's Bay Area debut, is hosted by director and cineaste Alejandro Adams. Also included is the documentary on Hopper's maligned epic, Along for the Ride (director Nick Ebeling will be introducing it himself, and valley-based film critic Fernando Croce will be part of a panel discussion).
Whether The Last Movie is a lost masterpiece or just an artifact of its times, a Hopper revival is necessary. Happily, Hopper turns up this fall in Orson Welles' The Other Side of the Wind (Netflix), another lost film about the angst of the movie business.
Along for the Ride (2017)
The Last Movie (1971)
Aug 11, 5pm
3Below Theatres & Lounge, San Jose