Movies
Review: 'The Second Mother'
'The Second Mother' deals with income inequality in the ascendant city of Sao Paulo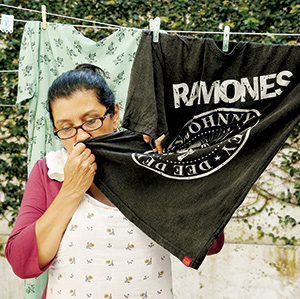 Seemingly destined for a gutless Hollywood remake, The Second Mother is a film about the class struggle in South America. For U.S. audiences, the film may prove quite prescient—forecasting the future ramifications of this country's yawning gap between the master and servant classes.
As filmgoers, we've gotten to the point where we're just about ready to consider the plight of domestic servants (see The Help). When you consider how many films are made by people who have personal assistants, it's particularly interesting to watch the acute tenderness and anger of a movie like The Second Mother, or a similar and also very good Chilean film, The Maid (2009).
The Portuguese title, Que Horas Ela Volta?, translates to "When Will She Be Back?"—which could be considered a lady of the manor's stern inquiry or a child's cry. The site is Sao Paulo, where water shortages (which are worse than California's) bring significance of the subplot about the draining of a family's swimming pool in that steaming city. Carlos (Lourenco Mutarelli) is the father of a well-off family—a bald, bearded old idler in an Elvis Costello T-shirt. He painted pictures once upon a time, but now they're wrapped in plastic in his studio. His hard-to-stomach wife Barbara (Karine Telas) is a snobby social dynamo, accustomed to getting her butt kissed by television reporters.
Central to the house, but rarely noticed, is Val (Regina Case), from the poor northeast of Brazil. "There are more people from the Northeast in Sao Paulo than there are in the Northeast," a new arrival to the megalopolis observes. Val has been cooking meals for and nannying the adolescent Fabinho (Michel Jolesas) since his boyhood. Val and Fabinho have a tender relationship, with a lot of physical contact—they secretly share a bed sometimes. But he's growing a bit too old to cuddle and is starting to fret about being a virgin.
Into this menage comes an intruder: Val's lithe daughter, Jessica (Camila Mardila). She is strong-willed, more than a little angry and tight in the jaw. Val asks her boss to allow Jessica to stay over for a week or two on the floor of her room, while Jessica takes her tests at the architectural institute where she intends to study.
Jessica has been raised by relatives down home and barely knows Val. The arrival causes ripples in all directions: Val is anxious to reinforce social rules that her daughter "ought to be born knowing"—such as, don't take a swim in the master's swimming pool. Fabinho holds shy but ardent hopes for this girl who is his own age. His father, Carlos, sees something deeper in Jessica—he sees what Uncle Vanya saw in Yelena: someone to rescue him from his unhappiness and futility.
The revelation of Jessica's secret is handled without skill—a hidden photograph that falls out and tells all. Since this is the key to Jessica's character—the reason for her anger, and the reason why she needs to seriously consider the attention that old Carlos offers—one wishes the revelation had been engineered with more subtlety.
Shot in middle distance, this film isn't just democratic in theme, it's democratic in style. Director Anna Muylaert is dry, tough, smart and funny. She keeps the action in middle distance so we're never quite sure who the film is about—and that's what makes this the opposite of the maternal melodrama we've learned to dread. Jessica's right about her mom—she is a cringer, living like a serf. And Val is right about Jessica—she's a pain in the neck guest. It's a mark of Muylaert's control of the smaller details that she won't let the family's golden retriever steal a single scene, no matter how much the smiling dog tries.
The Second Mother
R; 112 Mins.