Movies
The Source Family
A new documentary looks back at the blissed-out followers of L.A. cult leader Father Yod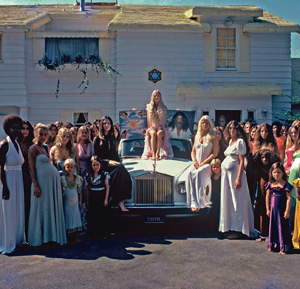 God spelled backward is "dog." I was 16 when I first heard this non-koan, popularized by Sky Saxon of L.A. band the Seeds. Is it about the circle of life (we're all in it together, from the Prince of Peace to Prince the Irish setter)? Is it just good old useful blasphemy: This world is supervised by a backward dog?
I never saw Father Yod, the L.A. guru who coined this saying; however, I did, on a Monday evening, take a breathing session officiated by one of his 13 wives. For that matter, I traded neck rubs (and a bit of saliva) with a few of his sackcloth-clad disciples. They were my schoolmates when they weren't roosting at the Sunset Strip health-food restaurant the Source.
Maria Demopoulos and Jodi Wille's fascinating and even-handed documentary The Source Family doesn't mention Father Yod's dog/god Bartlett's moment. Nor is there the clip of Woody Allen in Annie Hall stopping by the Source and ordering "a plate of mashed yeast" (rights-clearances are the death blood of the American documentary).
The filmmakers do include a snip of Saturday Night Live's mockery of the Source's famously bliss-whipped waiters. After an hour and a half of getting to know the manifold seekers Father Yod gathered, you feel a bit protective toward them—F.U. Dan Aykroyd.
Before he changed his name to Father Yod (derived from the Hebrew Tetragrammaton), before he became the lead singer on some of the most obscure and cherished psychedelic albums ever recorded and before his date with fate on a Kauai cliff on Aug. 25, 1975—before all that, Father Yod was born Jim Baker in 1932.
Baker had a highly successful career as a Los Angeles restaurateur. He was a World War II vet and killed a few rivals during fights (he was acquitted); he also liked to imply that he had something like a dozen banks to finance his eateries.
At the Source, Baker transmogrified into a duplicate of R. Crumb's Mr. Natural: a white-bearded, long-haired kaftan wearer. His tribe multiplied, all taking the last name Aquarius. There were some 52 home births in the commune, squashed into a three-bathroom house in L.A.
This took place shortly before the news of grim Kohoutek, a comet whose absence of show was among the hundred disappointments of a disappointing decade. Father got comet fever, deciding that the celestial event was a harbinger of three-way nuclear war. He and his family flew to Hawaii to set up a spa but encountered conflict and threats from the unenlightened locals.
Once draped in identical white robes and lined up like ducklings, the communards have found individual lives in the aftermath of the Source Family. We learn that they're everything from cashed-out CEOS to Civil War re-enactors to disaster preppers.
If there is a real hero in this film, it is "Isis" (who has a credit as an associate producer); she did a sterling job recording the doings of the group, filming with a keen eye for the difference between a home movie and something of interest for history. Father failed to transubstantiate, but at least his Wildman Fisher-like vocals on dozens of rare psychedelic records—there's an LSD flashback in every track!—have left something behind for the future.
I pored over this film looking for faces I remembered, thinking I might have seen them here or there for a few seconds—likely changed, aged by short rations and the exhaustion of homesteading in Hawaii. I recall the little coterie as being quite beautiful in that '70s California girl way—all but sky-clad in their clinging robes, with long unbound hair and wide spacey eyes.
I doubt a goat like Baker would have ignored them—perhaps, as was his custom, he assigned one of them out to a man when he got into a fix. Dressed sometimes in pimp regalia, carrying a cane and traveling in a Rolls-Royce, dressed sometimes as Santa, Father liked to pose as both the hand that takes and the hand that gives.
If I'm complaining, it's sour grapes. The girls I was chasing back in 11th grade finally cut it off, seeing through my motives. To paraphrase George Clinton, musta been the (backward) dog in me.
The Source Family
98 MIN NR
Opens Friday, Camera 3