Movies
Review: 'The Unknown Girl'
Medical mystery finds tension, empathy in a broke-down Belgium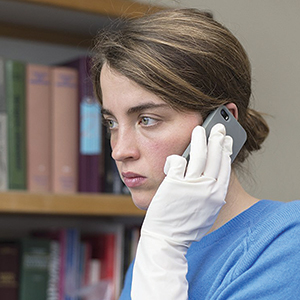 Strange how a movie will show up, as timely as it can be, right during a crisis. As the Senate prepares for some drastic surgery on the Affordable Care Act, there's special relevance to The Unknown Girl—an intriguing study of a selfless, heroic female physician atoning for a life she failed to save.
On one level, the Dardenne Brothers' new film gives an American audience a look at how the medical system functions in the shabbier part of Belgium. It's the neighborhood of Seraing in the city of Liege, the terrain Jean-Paul and Luc Dardenne have carved out for decades. It's sheer rust-belt, an area of cracked brick walls, canal-like industrial riverbanks and illegal aliens. The directors have compared Seraing to Detroit, but it looks more like Cleveland. You can't exactly put "it's a study of Belgian medical practices" on the poster and expect to get an audience in the seats. But Seraing gives background color to the quest of Dr. Jenny Davin (Adele Haenel).
The film opens with the slim, intense Jenny pressing her stethoscope into the back of an aged patient, deducing his problems. Her intern, Julien (Olivier Bonnaud), is instructed on the importance of listening ... and so is the audience. During the rest of the movie, we must diagnose what's troubling the characters. After witnessing a kid's seizure in the clinic's emergency room, Julien gives up medicine on the spot. Is this because of some sort of off-camera emotional breakup with Jenny, or unrequited love for the good-looking doctor?
Jenny had chastised Julien in the mildest way about the importance of keeping his emotions level, so as not to have his judgment clouded when he's working with a patient. But she herself swims in her feelings: tears come to her eyes when a young cancer patient plays a song dedicated to her on his guitar, or when her skills are praised at a doctor's retirement party.
Jenny turned away a stranger from her office door because it was after hours and the neighborhood has its share of crime. Later, the police check Jenny's security camera to see if there was any footage of a woman who turned up dead without any identification, killed by a skull fracture. Guilt-stricken because she didn't open the door to this desperate woman, Jenny determines to help, to try to find the identity of the deceased, so that the dead girl's relatives can learn that they've lost her.
The Dardennes do what they do best: following the characters around, leaving us to figure out the connections. Jenny drives by night alone, doing house calls (they still do that in Belgium); she stops by the home of a diabetic whose feet are in such bad shape that he can't go downtown and fight social services about their cutbacks. Her office is invaded by junkies trying to get a fast prescription for opiates. One of her patients is an Arab construction worker whose injury got infected because he was afraid to go to the hospital without a legal passport.
Haenel's steadiness in this part is a joy to watch. She shows us the significant difference between someone being tough and someone being completely tenacious. It's the the kind of part Ellen Page would do proud, if we made movies like this here.
While it's action-packed for the Dardennes, The Unknown Girl is not their best work, but that's as much a metaphysical problem as a failure on their part: there's no adequate solution to the mystery of the existence of a place like Seraing.
Producers churn out would-be Christian movies, all of them full of bogus magical realism, jackpot-hitting and wishful thinking. By contrast, these ex-Catholic Dardennes make the most intriguing Christian movies around. They do this simply by indicating the duty to heal and bear witness, at whatever cost to oneself. An example is their 2002 film, The Son, about the decision of a father (Olivier Gourmet) to forgive an unforgivable crime. Here, Jenny's own detective work is a natural growth from her work as a physician. While there's no direct reference to religion, her moral duty is clear. The film opposes the kind of hypocrisy of God-bothering senators, whose greed belies the faith they claim to serve.
The Unknown Girl
Unrated, 109 Mins.
Camera 3
7/10 stars