Movies
'The Wonders'
In 'The Wonders,' an adolescent Italian girl is tempted by television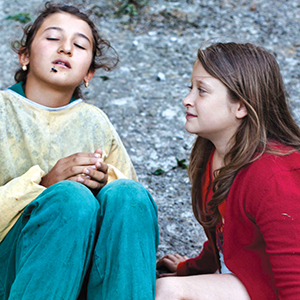 Sometimes, when watching a really first-rate movie, you don't know where everyone stands—after an hour or two, the characters' loyalties and disappointments are still a mystery. How deeply have they hurt each other? How far are they sunk in their own obsessions? That's for them to know and for you to find out.
Director Alice Rohrwacher's The Wonders is set during the summer in Italy's Etruscan region. Occupation by humans for 3,000 years can certainly scrape a place bare. A large mixed family works at beekeeping while living in a rented ruin of a farmhouse. The would-be patriarch of the family, Wolfgang (Sam Louwyck), is from some especially self-serious part of Germany. He's solemn and hollow-eyed from the lack of money and the worry of having sired so many little girls. (The Italian locals taunt Wolfgang, asking him when he's going to get around to having sons.) Some sort of fanaticism hangs over Wolfgang like fever hangs over a marsh. Rohrwacher keeps Wolfgang's motives for becoming a farmer a mystery—when he gets a moment in front of the TV cameras, he starts to talk about his views on the upcoming end of the world, but no one wants to hear him out.
It's tacitly agreed among the family that Gelsomina (Maria Alexandra Lungu) is the brains. She's 11 and has a strong resemblance to Mona Lisa in both olive coloring and cryptic half-smile. It only takes one moment to make us realize that The Wonders is Gelsomina's story—it's the moment when we see Gelsomina looking over her shoulder at her childish sisters playing in the middle distance. We seem to be watching the very instant when Gelsomina crosses the edge of adolescence.
An exchange of lines between the parents keeps us from really knowing how long the family is going to stay: "This is supposed to be a vacation." "No, it's not!" The rounds of the day include keeping track of the bucket under the slowly dripping honey extractor. Another task is retrieving a swarm of bees from a churchyard, while trying to make the priest understand that they're not acting as pest control for free. Just as you can't tell how old the crumbling farmhouse is—100 years or 300?—we never resolve the question of what the forlorn adult friend named Coco (Sabine Timoteo) is doing with the family. Is she an aunt? A sister-wife? A hired hand?
The arrival of outsiders brings this vacation/not a vacation to an end. On an expedition to a nearby beach, the beekeepers stumble across a live film set. It's a TV pageant meant to tantalize tourists, luring them to the area for a farms-to-forks scheme. Gelsomina and her sisters are charmed by the show's princess-like hostess, Milly (Monica Bellucci, who recently appeared in Spectre, plays this UHF TV-worthy chimera). Winners of the best local farm award will attend a ceremony filmed inside an Etruscan tomb, tarted up for the occasion with Christmas lights and costumes. The Wonders' odd title comes from the name of this show within a show. Even this low-budget telefest is too much for the father, who views the tinsel, costumes and wigs as a corrupting force, luring his daughters away from the soul-cleansing of hard work.
While everything in this movie could be transplanted with ease to, say, Tehama County, The Wonders is unique beyond its Etrurian terroir. Rohrwacher, who had some childhood experience tending bees on a farm, claims she had a "pre-Freudian" fairy tale of a film in mind. She's achieved it—this is an alluring coming of age story in which the fault lines between the extended family members don't run in the customary places. The young heroine is on her own enchanted wavelength. Gelsomina has a memorable trick—she's so in touch with the animistic world around her that she can carry a live bee in her mouth without being stung. The details of low-budget farming are observed with clarity, but it's still a movie of strange country magic.
The Wonders
NR; 110 Mins.
Camera 3