Movies
Therese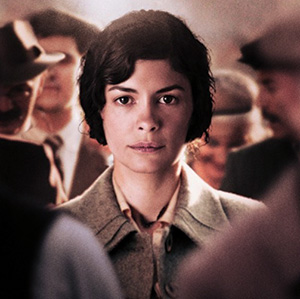 We get films of nostalgia, or films that critique the past, but very few that do both at the same time. Therese is the late Claude Miller's adaptation of Francois Mauriac's Therese Desqueyroux, filmed some 50 years ago by the master poisoner Georges Franju. Then, Emmanuele (Amour) Riva was Therse, "an Emma Bovary who strikes back," as Franju said at the time. There is a noticeable physical resemblance between Philippe Noiret in the Franju version and the very good Giles Lellouche, here as Therse's stuffy, propertied husband Bernard, whose only indication of having a heart is his persistent angina.
It's the late 1920s. After an unspeakable honeymoon, Therse is impregnated. Her discontent grows after she has a child. Her restlessness is symbolized in the images of the forests of valuable timber owned by their conjoined families, trees as dry as tinder and waiting for the spark of destruction.
In the lead role, Audrey Tautou may be a bit old for the virginal early scenes, but she's not a star because of eternal youthfulness. Tautou made the world fall in love with her first via Amelie, and then commenced more ambitious work afterwards. She's quite a not-nice female antagonist: mean, grasping, disapproving, with no interest in sex because "my head is too full of ideas." But this isn't a desiccated movie; it's more of a cold-fusion version of Bette Davis in rebellion (Beyond the Forest, with its pines and its blazing kiln, comes to mind). The Catholic qualities of the source novel take a backseat to a hard, ardent feminism—the peeling yellow wallpaper in Therse's cell-like room could be from the famous Charlotte Gilman story.
Some have been dismissing Therese as Masterpiece Theater, and the framing is often televisionistic; it's likely Therese Desqueyroux would never be popular cinematic material, even though it's more tangy than dusty. Tautou's precision lures you in. She's impressive as a climber. With her impassive black eyes, bobbed hair and air of callousness, this Therse looks a bit like Ayn Rand. Tautou's real skills show in the transformation, in her death-warmed-over scenes close to the finale.
Unrated; 110 min.